** Buy "Why The Monkees Matter" Today **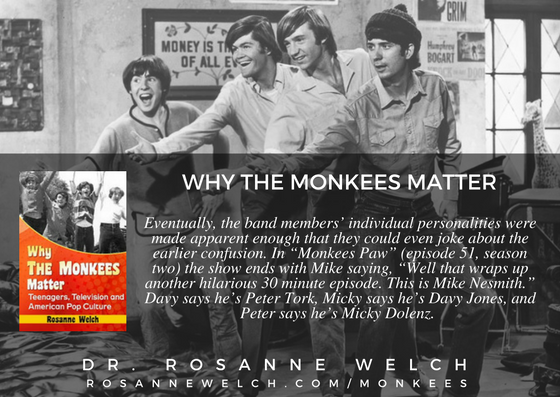 Eventually, the band members' individual personalities were made apparent enough that they could even joke about the earlier confusion. In "Monkees Paw" (episode 51, season two) the show ends with Mike saying, "Well that wraps up another hilarious 30 minute episode. This is Mike Nesmith." Davy says he's Peter Tork, Micky says he's Davy Jones, and Peter says he's Micky Dolenz.  
from Why The Monkees Matter by Dr. Rosanne Welch —  Buy your Copy today!
 Why The Monkees Matter: Teenagers, Television and American Pop Culture
McFarland (Direct from Publisher) | Amazon | Kindle Edition | Nook Edition