** Buy "Why The Monkees Matter" Today **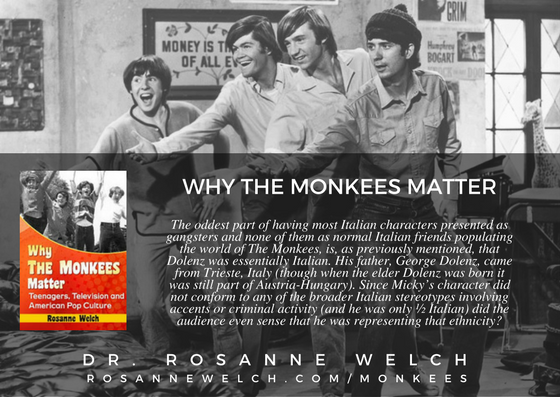 The oddest part of having most Italian characters presented as gangsters and none of them as normal Italian friends populating the world of The Monkees, is, as previously mentioned, that Dolenz was essentially Italian. His father, George Dolenz, came from Trieste, Italy (though when the elder Dolenz was born it was still part of Austria-Hungary). Since Micky's character did not conform to any of the broader Italian stereotypes involving accents or criminal activity (and he was only ½ Italian) did the audience even sense that he was representing that ethnicity?
from Why The Monkees Mattered by Dr. Rosanne Welch —  Buy your Copy today!
 Why The Monkees Matter: Teenagers, Television and American Pop Culture
McFarland (Direct from Publisher) | Amazon | Kindle Edition | Nook Edition