It's always nice when they refer to each other as old friends after all these years. — Rosanne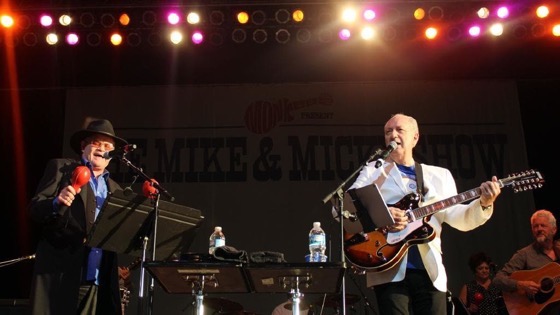 WHEN Monkees members Mike Nesmith and Micky Dolenz launched their tour in the US mid-last year, bandmate Peter Tork would have been aware the cancer he had battled for nine years had returned.
At the time Tork said he wouldn't be touring because he planned to focus on his Lead Belly tribute album Relax Your Mind.

"Peter was very private," Nesmith said.

"He didn't discuss it with me or really anybody else. The doctors all had different opinions about it.

"What I made the decision to do was to stand by his side, be a friend and give him as good a send-off as I know how to give from this plane of existence."
Read Mike Nesmith opens up on touring without Monkees bandmate Peter via the Courier Mail
---
 Buy Why The Monkees Matter: Teenagers, Television and American Pop Culture
 

A hit television show about a fictitious rock band, The Monkees (1966-1968) earned two Emmys–Outstanding Comedy Series and Outstanding Directorial Acheivement in Comedy.

 

Capitalizing on the show's success, the actual band formed by the actors, at their peak, sold more albums than The Beatles and The Rolling Stones combined, and set the stage for other musical TV characters from The Partridge Family to Hannah Montana. In the late 1980s, the Monkees began a series of reunion tours that continued into their 50th anniversary.

 

This book tells the story of The Monkees and how the show changed television, introducing a new generation to the fourth-wall-breaking slapstick created by Laurel and Hardy and the Marx Brothers.

 

Its creators contributed to the innovative film and television of 1970s with projects like Bob & Carol & Ted & Alice, The Mary Tyler Moore Show, Laugh-In and Welcome Back, Kotter. Immense profits from the show, its music and its merchandising funded the producers' move into films such as Head, Easy Riderand Five Easy Pieces.

 
McFarland (Direct from Publisher) | Amazon | Kindle Edition | Nook Edition
Want to use "Why The Monkees Matter" in your classroom?
Order Examination Copies, Library and Campus Bookstore orders directly from McFarland