My latest podcast with my fellow Mentoris authors is now available on the Mentoris Web Site. Give it a listen and Subscribe for More! — Rosanne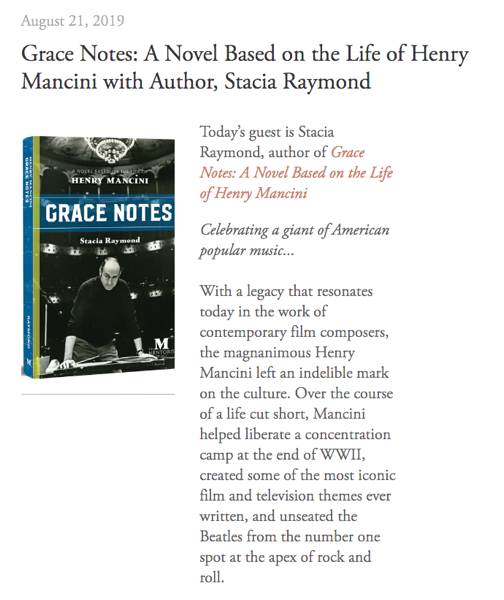 Grace Notes: A Novel Based on the Life of Henry Mancini with Author, Stacia Raymond
Hosted by Dr. Rosanne Welch
Subscribe Via iTunes | Google Play | TuneIn | RSS
---
Today's guest is Stacia Raymond, author of Grace Notes: A Novel Based on the Life of Henry Mancini
With a legacy that resonates today in the work of contemporary film composers, the magnanimous Henry Mancini left an indelible mark on the culture. Over the course of a life cut short, Mancini helped liberate a concentration camp at the end of WWII, created some of the most iconic film and television themes ever written, and unseated the Beatles from the number one spot at the apex of rock and roll.
---
About the Author
Stacia Raymond is a freelance writer and editor based in Southern California. With more than fifteen years of experience in the film and television industry, Raymond has built a body of work that includes fiction, non-fiction, and ghostwriting for clients in the fields of music, film, and technology. Raymond's television writing has been produced by CBS, Paramount, and Lifetime, and she has developed projects with Showtime and ABC Family. In 2013, she was awarded a Fellowship with the Puglia Film Commission as part of a program to bring more production to the Southern Italian region.
Follow @mentorisproject on Instagram
Visit the Mentoris Project for more!
---
Also from the Mentoris Project
Want to use these books in your classroom? Contact the Mentoris Project!`