Fascinating read about happiness as folks age out of their first careers…especially this point: "teaching is an ability that decays very late in life, a principal exception to the general pattern of professional decline over time. A study in The Journal of Higher Education showed that the oldest college professors in disciplines requiring a large store of fixed knowledge, specifically the humanities, tended to get evaluated most positively by students." — Rosanne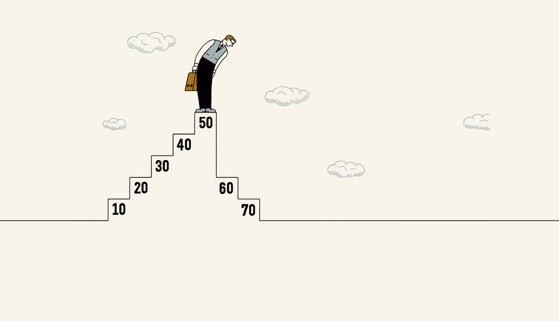 Your Professional Decline Is Coming (Much) Sooner Than You Think

"It's not true that no one needs you anymore."

These words came from an elderly woman sitting behind me on a late-night flight from Los Angeles to Washington, D.C. The plane was dark and quiet. A man I assumed to be her husband murmured almost inaudibly in response, something to the effect of "I wish I was dead."

Again, the woman: "Oh, stop saying that."

I didn't mean to eavesdrop, but couldn't help it. I listened with morbid fascination, forming an image of the man in my head as they talked. I imagined someone who had worked hard all his life in relative obscurity, someone with unfulfilled dreams—perhaps of the degree he never attained, the career he never pursued, the company he never started.

At the end of the flight, as the lights switched on, I finally got a look at the desolate man. I was shocked. I recognized him—he was, and still is, world-famous. Then in his mid‑80s, he was beloved as a hero for his courage, patriotism, and accomplishments many decades ago.