** Buy "Why The Monkees Matter" Today **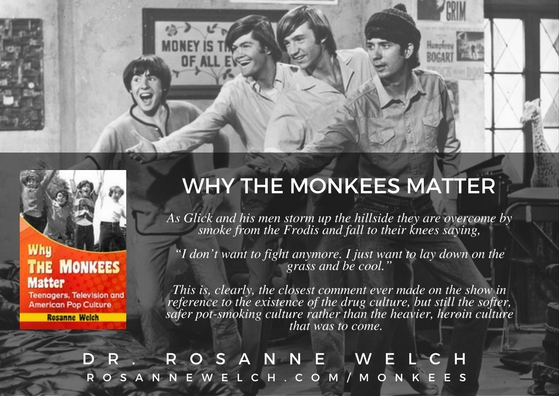 "As Glick and his men storm up the hillside they are overcome by smoke from the Frodis and fall to their knees saying, "I don't want to fight anymore. I just want to lay down on the grass and be cool." This is, clearly, the closest comment ever made on the show in reference to the existence of the drug culture, but still the softer, safer pot-smoking culture rather than the heavier, heroin culture that was to come.  
from Why The Monkees Mattered by Dr. Rosanne Welch —  Buy your Copy today!
 Why The Monkees Matter: Teenagers, Television and American Pop Culture
McFarland (Direct from Publisher) | Amazon | Kindle Edition | Nook Edition