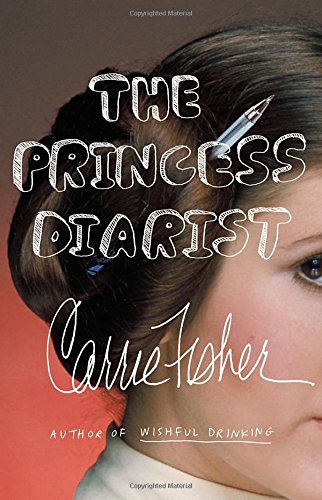 Thought I'd read Carrie Fisher's "The Princess Diarist" for some frothy relaxing fun this weekend and found myself dazed by what a brilliant writer she was at 19. Her opening chapters are all from the recent past year (who knew it would be her last?) and sound like the distinct voice she became as a writer, but her journal entries from the filming of Star Wars are a distinct voice as well, capturing the thrill of obsessive first love better than many authors I've read (and I've read a LOT of them from Jane Austen to Judy Blume). 
The quality of the poem she wrote about her infatuation with Harrison (how nice to know she was as human as the rest of us and couldn't resist the smuggler in the Cantina – AND that she had the opportunity to live our ALL our fantasies, so she "Tried not, she DID) will sadly be ignored — both for being written by a celebrity (hey, wasn't F. Scott a celebrity?) and for being written by a young girl (hey, wasn't Mary Shelley 19 when she wrote Frankenstein?).
I'd teach this book in a high school literature class if I was still teaching one. For now I recommend it as: 'can't put down even though I have scripts to read and grade'.
* A portion of each sale from Amazon.com directly supports our blogs
** Many of these books may be available from your local library. Check it out!