** Buy "Why The Monkees Matter" Today **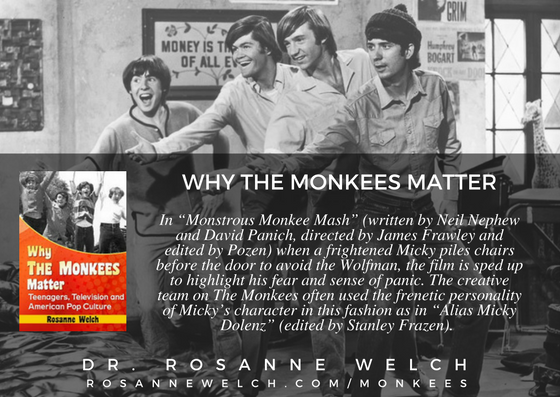 In "Monstrous Monkee Mash" (written by Neil Nephew and David Panich, directed by James Frawley and edited by Pozen) when a frightened Micky piles chairs before the door to avoid the Wolfman, the film is sped up to highlight his fear and sense of panic. The creative team on The Monkees often used the frenetic personality of Micky's character in this fashion as in "Alias Micky Dolenz" (edited by Stanley Frazen). 
from Why The Monkees Mattered by Dr. Rosanne Welch —  Buy your Copy today!
 Why The Monkees Matter: Teenagers, Television and American Pop Culture
McFarland (Direct from Publisher) | Amazon | Kindle Edition | Nook Edition