** Buy "Why The Monkees Matter" Today **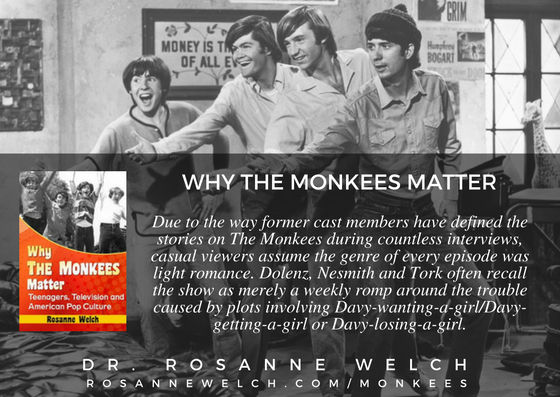 Due to the way former cast members have defined the stories on The Monkees during countless interviews, casual viewers assume the genre of every episode was light romance. Dolenz, Nesmith and Tork often recall the show as merely a weekly romp around the trouble caused by plots involving Davy-wanting-a-girl/Davy-getting-a-girl or Davy-losing-a-girl. 
from Why The Monkees Mattered by Dr. Rosanne Welch —  Buy your Copy today!
 Why The Monkees Matter: Teenagers, Television and American Pop Culture
McFarland (Direct from Publisher) | Amazon | Kindle Edition | Nook Edition