From The Research Vault:  In Defense of The Monkees. American Music Review, XLI(2), Spring 2012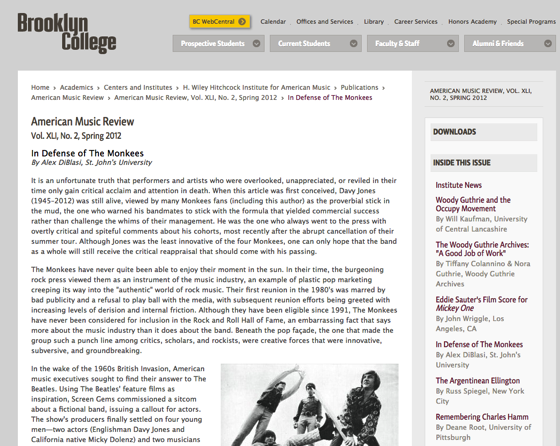 It is an unfortunate truth that performers and artists who were overlooked, unappreciated, or reviled in their time only gain critical acclaim and attention in death. When this article was first conceived, Davy Jones (1945–2012) was still alive, viewed by many Monkees fans (including this author) as the proverbial stick in the mud, the one who warned his bandmates to stick with the formula that yielded commercial success rather than challenge the whims of their management. He was the one who always went to the press with overtly critical and spiteful comments about his cohorts, most recently after the abrupt cancellation of their summer tour. Although Jones was the least innovative of the four Monkees, one can only hope that the band as a whole will still receive the critical reappraisal that should come with his passing.

The Monkees have never quite been able to enjoy their moment in the sun. In their time, the burgeoning rock press viewed them as an instrument of the music industry, an example of plastic pop marketing creeping its way into the "authentic" world of rock music. Their first reunion in the 1980's was marred by bad publicity and a refusal to play ball with the media, with subsequent reunion efforts being greeted with increasing levels of derision and internal friction. Although they have been eligible since 1991, The Monkees have never been considered for inclusion in the Rock and Roll Hall of Fame, an embarrassing fact that says more about the music industry than it does about the band. Beneath the pop façade, the one that made the group such a punch line among critics, scholars, and rockists, were creative forces that were innovative, subversive, and groundbreaking.
Read In Defense of The Monkees. American Music Review, XLI(2), Spring 2012
---
Why The Monkees Matter: Teenagers, Television and American Pop Culture