Rosanne Welch talks about "Why The Monkees Matter" with Jean Hopkins Power
Watch this entire presentation (45 mins)
Jean Powergirl takes the host reigns and welcomes her guest Rosanne Welch, PhD to the show! They'll be discussing Roseanne's book, "Why The Monkees Matter: Teenagers, Television and American Pop Culture."
Transcript:
Just this last year, in honor of their 50th Anniversary, they put out a 50th Anniversary album which has been a pretty good seller. It's called 'Good Times" and there are some marvelous songs on there. They got a series of young, modern-day, songwriters. Guys from big groups that we all know about from winning Grammys and they got them to write songs for The Monkees and they play really well. Hearing their harmonies and, of course, they did a tour and I went to a couple of the concerts and it was beautiful to see them play in public again and to see how the fans really have supported them all these years and they give fans a show that they paid for. It's pretty long and they play all the hits which sometimes you go see somebody and they play new music. Jean: I want the hits. Rosanne: That's what I'm paying for. So they respect their audience and they always did and I think that's why they've had such longevity in that way. Jean: All right, now Rosanne has so many things to say and we're running out of time here, but I want you to tell everyone how they can learn more about you, learn more about your books and just start rambling off all the ways to find Dr. Rosanne Welch. Rosanne. Obviously like everybody I have a blog that's RosanneWelch.com. Jean: No "E" in Rosanne by the way. Rosanne: No my name is spelled ROSANNE and Welch is WELCH. So RosanneWelch.com is my blog. Of course, if you Google it you'll find it all.I have a YouTube channel. Ido lectures on The Monkees which I've recorded but I also do lectures on Doctor Who and several other things that I've done for my classes so they're kind of all available there. Both 20 or 30-minute lectures and little kid of 2-minute snippets that give you a sense of what it's about. Those are on my YouTube Channel. I have a Facebook Page for the book. It's Called "Why The Monkees Matter." So that's the Facebook Page. I tend to continue to post things that have to do with the television show and the history. I post things I've found in my research whether they're clips from YouTube or whether they are articles that I've read and connections like that. I like to kind of keep people in touch and then there's a marvelous podcast called Zilch: A Monkees Podcast. I have nothing to do with that except I've guested on it a couple of times, but it is a great place to learn more about The Monkees and I am doing a guest bit in an upcoming episode. We had a lovely roundtable where we discussed how the actors guest starred in other shows pre and post The Monkees and what that did for their careers and also about the… Rosanne: So, yes, they are still out there touring and I think it's really fabulous that they're still bringing this positive message. The other reason they were so popular is there were a lot of negative things going on in the 60's but their music was very popular and it was very uplifting and that's also something — I say, as I look at their various careers and how they grew and changed eventually Davy Jones was opening at Disneyland special events they had there but when The Monkees first came out they would have been too controversial with the long hair for Disneyland — they say the joke several times on the show, if you have long hair you can't get into Disneyland. They wouldn't let you in. Jean: It's not even that long people. We're talking Beatles Mop Tops here. Rosanne: It's an interesting look American culture and how we've grown over the years. Jean: Right. Well, I love talking about this. I could talk about it all day. I love things about Hollywood but this book is fascinating. If you want to nerd out Monkees, on vintage TV, on producing, directing, counterculture. This is the book for you. Why The Monkees Matter: Teenagers, Television and American Pop Culture by my friend, Dr. Rosanne Welch. Get this book. It's super awesome and thank you again, Rosanne, for coming on. Rosanne: Oh it's been great. Are you kidding? Jean: And sorry for the previous audio situation. Bye!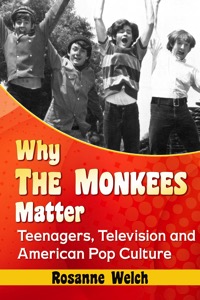 A hit television show about a fictitious rock band, The Monkees (1966-1968) earned two Emmys–Outstanding Comedy Series and Outstanding Directorial Achievement in Comedy. Capitalizing on the show's success, the actual band formed by the actors, at their peak, sold more albums than The Beatles and The Rolling Stones combined and set the stage for other musical TV characters from The Partridge Family to Hannah Montana. In the late 1980s, the Monkees began a series of reunion tours that continued into their 50th anniversary.
 This book tells the story of The Monkees and how the show changed television, introducing a new generation to the fourth-wall-breaking slapstick created by Laurel and Hardy and the Marx Brothers. Its creators contributed to the innovative film and television of 1970s with projects like Bob & Carol & Ted & Alice, The Mary Tyler Moore Show, Laugh-In and Welcome Back, Kotter. Immense profits from the show, its music and its merchandising funded the producers' move into films such as Head, Easy Rider and Five Easy Pieces. 

Rosanne Welch, PhD has written for television (Touched by an Angel, Picket Fences) and print (Three Ring Circus: How Real Couples Balance Marriage, Work and Kids and The Encyclopedia of Women in Aviation and Space). In the documentary world she has written and produced Bill Clinton and the Boys Nation Class of 1963 for ABC NEWS/Nightline and consulted on PBS's A Prince Among Slaves, the story of a prince from West Africa who was enslaved in the 1780s, freed by order of President John Quincy Adams in the 1820s and returned to his homeland.
Podcast: Play in new window | Download
Subscribe: Google Podcasts | RSS