The latest podcast is about my Mentoris book and is now available on the Mentoris Web Site. Give it a listen and Subscribe for More! — Rosanne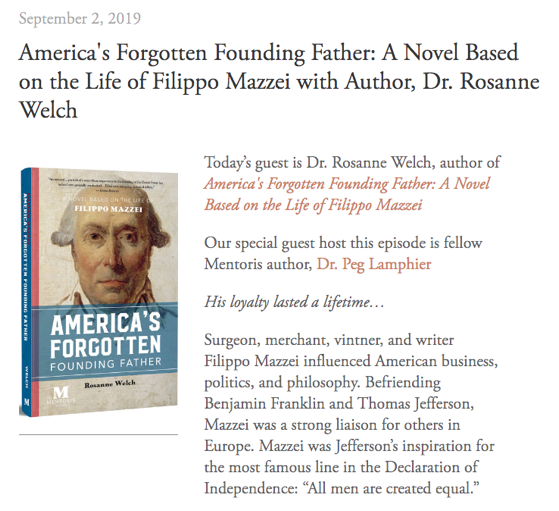 America's Forgotten Founding Father: A Novel Based on the Life of Filippo Mazzei with Author, Dr. Rosanne Welch
Guest Hosted by Dr. Peg Lamphier
Podcast: Play in new window | Download
Subscribe: Google Podcasts | RSS
Subscribe Via iTunes | Google Play | TuneIn | RSS
---
His loyalty lasted a lifetime…
Surgeon, merchant, vintner, and writer Filippo Mazzei influenced American business, politics, and philosophy. Befriending Benjamin Franklin and Thomas Jefferson, Mazzei was a strong liaison for others in Europe. Mazzei was Jefferson's inspiration for the most famous line in the Declaration of Independence: "All men are created equal."
---
About the Author
Rosanne Welch is a writer, producer, and university professor with credits that include Beverly Hills 90210, Picket Fences, Touched by an Angel, and ABC NEWS/Nightline. She is the author of Why The Monkees Matter: Teenagers, Television and American Pop Culture (McFarland, 2017). She is co-editor, with Peg A. Lamphier, of Women in American History: A Social, Political, and Cultural Encyclopedia and Document Collection (ABC-CLIO, 2017).
Welch has also published chapters in Torchwood Declassified: Investigating Mainstream Cult Television (I. B.Tauris) and The American Civil War on Film and TV: Blue and Gray in Black and White and Color (Lexington Books, 2018), and an essay in Doctor Who and Race: An Anthology.
By day she teaches courses on the history of screenwriting and on television writing for the Stephens College MFA in screenwriting programs. You can also watch her TEDx talk, "The Importance of Having a Female Voice in the Room"
Follow @mentorisproject on Instagram
Visit the Mentoris Project for more!
---
Also from the Mentoris Project
Want to use these books in your classroom? Contact the Mentoris Project!`