A clip from this longer presentation – Doctor Who: Feminism in the Whoniverse with Dr. Rosanne Welch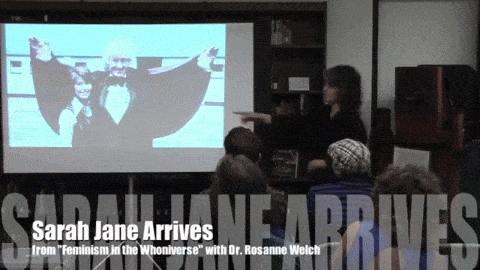 Watch this entire presentation – Doctor Who: Feminism in the Whoniverse with Dr. Rosanne Welch
Dr. Rosanne Welch (http://rosannewelch.com) speaks on "Feminism in the Whoniverse" of Doctor Who, the BBC television program now in its 50th year. She reviews each of the Doctor's female companions and speaks on how they are represented in the program and how they represented the women of their respective periods.
Transcript:
Sarah Jane — look at the — oooo– she was such a cutey pie when she got — they were looking for that cutesy pie little girl, but Sarah Jane is possibly one of the most feminist characters. She's an investigative journalist. So, now daddy's not the journalist. I am. It's not sports or entertainment. It's investigations — social justice. Let's go out in the world and find problems and solve them, right. So, she comes in there, but you know, we got the whole fresh faced, cutey pie girl look. You can't get away from that. It is television. All right? They do want somebody pretty, but Sarah Jane is a pretty fascinating character. I just like that picture because they're cute together. They're just very sweet. You can tell that they're having a good time working together.
Feminism in the Whoniverse was presented at the Cal Poly Pomona University Library where Dr. Welch teaches in the IGE (Interdisciplinary General Education) program.
This is the 4th talk on various aspects of Doctor Who that Dr. Welch has presented. You can find these talks using the links below.
Subscribe to Dr. Welch's YouTube Channel
Podcast: Play in new window | Download
Subscribe: Google Podcasts | RSS