Please join Dr. Rosanne Welch and Dawn Comer Jefferson for Literacy Day at the California African American Museum. We will be doing a workshop for kids as well as readings from our book, The Promise. Signed copies of The Promise will also be available for purchase.
The day includes several local authors offering writing workshops and book signings, celebrities reading books, art and crafts, book giveaways and music. And there will be a lunch truck on the premises.
We hope to see you there!
Heads Are Turning, Children Are Learning – California African-American Museum Celebrates Children's Literacy
Since 2004, in celebration of National Children's Book Week, we present local Los Angelels authors and celebrity readers in CAAM's galleries. The activities of the day also include an arts and crafts workshop, literacy workshops, face-painting, and book giveaways for families in attendance.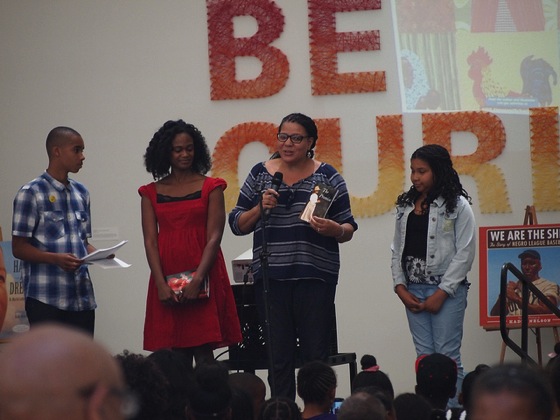 The Promise Co-Author, Dawn Comer Jefferson, presents at 2014 CAAM Literacy Day Event
Saturday, May 23, 2015
11am – 4 pm
Free and open to the public. Parking: $10.
The California African American Museum is easily accessible from the Metro Expo line using the Exposition Park/USC Station. (See map below)
RSVP preferred: 213.744.2024
California African American Museum
600 State Drive Exposition Park
Los Angeles, CA 90037
[MAP]
Scenes from 2014 CAAM Literacy Day Event