Dr. Rosanne Welch presents "How Doctor Who Redefined Masculinity: A Study of the Doctors and their Male Companions" at the Cal Poly Pomona University Library. Dr. Welch teaches in the IGE (Interdisciplinary General Education) program.
Watch the entire presentation here
Transcript:
Now we go back to Danny Pink. Danny we don't get a chance to see do the whole Dad thing, but we see a few things. First of all, what's his job when he's not being a soldier? He's a teacher. So, we define again teacher as a gendered kid of job. We generally see women int he education field. Especially when it's in middle school, elementary school, a few more guys in high school, but largely we see that as a female job, because it's about nurturing a younger generation of people. So, as a teacher we see him protective of the children in his care. He is their pseudo-father when they are at school with him and I think that's really important. That's how Danny is defined for us. We see him first as this and then we hear about the warrior — oh yeah, he was a soldier. So his first definition is this. 
A clip from this 5th talk on various aspects of Doctor Who presented by Dr. Welch. You can find Dr. Welch's other Doctor Who talks using the links below.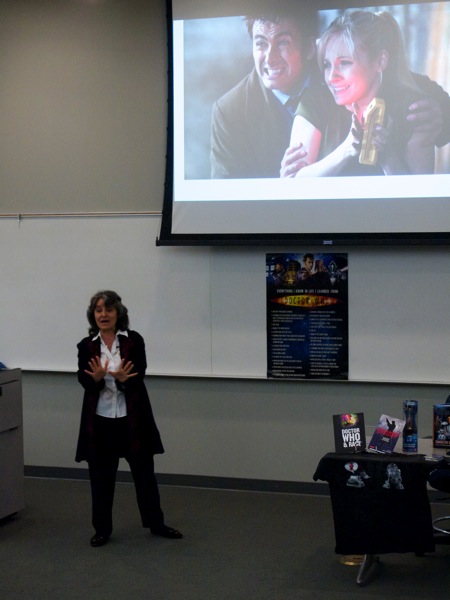 Follow Dr. Rosanne Welch on the Web and via social media at:
Podcast: Play in new window | Download
Subscribe: Google Podcasts | RSS