Who Wrote The Monkees? –  "Case of the Missing Monkee" and "I Was A Teenage Monster" – by Gerald Gardner and Dee Caruso and Dave Evans Part 5 of an on-going series
Did you know The Monkees had a connection to RFK?   Not the movie, but the man.  Read on…
This weekend Antenna TV is showing 2 episodes of The Monkees "Case of the Missing Monkee" and "I Was A Teenage Monster". One was written solely by Gerald Gardner and Dee Caruso, who were the showrunners, and one written by them AND Dave Evans, who I've written about before on this page.  So today I'll focus on Gerald Gardner and Dee Caruso.  
Sadly, Mr. Caruso had passed away just a few months before I first had the idea to interview the writers of The Monkees for the article in Written By magazine that turned into the proposal for my eventual book so I was never able to meet him.  But his writing partner, Gerald Gardner, welcomed me warmly into his wonderful home and told me all about their work before, during and after The Monkees.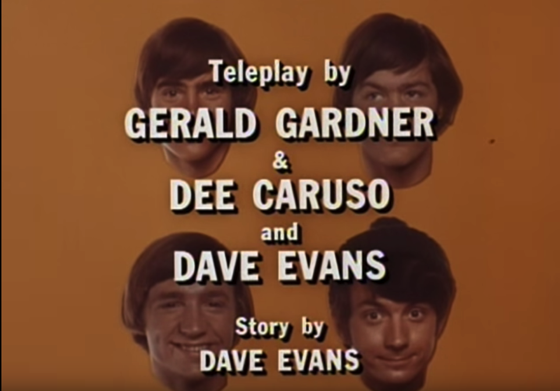 How does Robert F. Kennedy fit into the story?
Mr. Gardner had begun his writing career doing comical political satire books called Who's In Charge Here?. Those books caught the attention of then President John F. Kennedy, who invited the writer to lunch at the White House.  After his assassination, Mr. Gardner sent a condolence letter to then Attorney General RFK.  When RFK decided to run for the Senate in New York, he asked Mr. Gardner to join his speech writing team.  (Sound a bit like The West Wing, doesn't it?)  After Senator Kennedy went to work in Washington, Mr. Gardner wrote a book about the campaign: Robert Kennedy in New York.  Mr. Gardner's first work in television was in New York as the senior writer on That Was the Week That Was which was a forerunner to "Weekend Update" on SNL.  All this work in comedy led him to partner up with Dee Caruso to work for producer Buck Henry on Get Smart and when Bert Schneider and Bob Rafelson came to Henry asking to meet some hot young comedy writers to run their new show… well, you know what happened.  And that's how The Monkees are connected to Camelot? 
---
More information on The Monkees:
Previously in Who Wrote The Monkees?: