I'm so pleased to post this link to an interview Sarah Clark did with me for a podcast she co-hosts called Zilch: A Monkee's Podcast.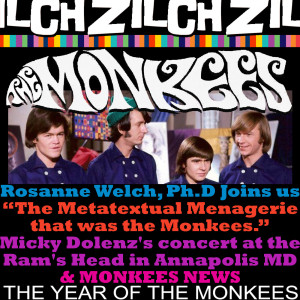 Naturally, we talk about my upcoming book Why The Monkees Matter and my scholarly take on the show.
Clck here to read more about Why The Monkees Matter  by Dr. Rosanne Welch
Sarah asked all the best questions which allowed me to discuss all the things I love studying about the show – its take on feminism, its handling of ethnic characters, what I like to call its cultural collateral – and of course why it deserves a place in critical studies in television courses because of its innovation – you do know it won an Emmy for Best Comedy in its debut year, don't you? That ranks it right up there with classic quality comedies.
The whole show is fun to listen to as they discuss Micky's solo show and some news about future concerts, (but if you want to start with my interview first that starts at 29:15 and ends at 1:23:00)
You might want to download the file (or subscribe to the podcast) rather than listening online as sometimes I've found their server gets overloaded and the audio falls out. I download the mp3 and then play it from my iTunes program.
More on The Monkees from Dr. Rosanne Welch:
Hey, Hey, They Wrote The Monkees – Written By Magazine
Podcast: Play in new window | Download
Subscribe: Google Podcasts | RSS