The Cal Poly Pomona Web Site has a feature article today on the two College of Education and Integrative Studies professors (including myself) who will be presenting at this week's TEDxCPP. — Rosanne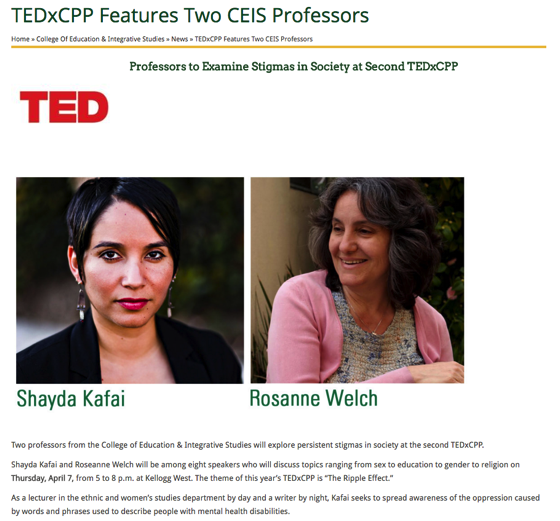 Two professors from the College of Education & Integrative Studies will explore persistent stigmas in society at the second TEDxCPP.

Shayda Kafai and Roseanne Welch will be among eight speakers who will discuss topics ranging from sex to education to gender to religion on Thursday, April 7, from 5 to 8 p.m. at Kellogg West. The theme of this year's TEDxCPP is "The Ripple Effect."

As a lecturer in the ethnic and women's studies department by day and a writer by night, Kafai seeks to spread awareness of the oppression caused by words and phrases used to describe people with mental health disabilities.

Kafai aims to change perspectives on mental health stigmas in her speech titled "The Language of Madness."

"I am going to be exploring the stigmatic ways we socially frame psychiatric disabilities," Kafai says. "Through the use of personal narrative, I will share reasons why we must collectively unlearn totalizing language."

Welch has taken her writing and professional experiences from mainstream television to the classroom by teaching humanities in the interdisciplinary general education department. She holds a doctorate in American social history of the 21st century.

Welch's speech, titled "The Importance of Having a Female Voice in the Writer's Room," will address issues with "othering," which occurs when one group takes another group's differences and uses that against them.

"Based on my previous career as a television writer, I'll be speaking about moments when new perspectives in the writer's room can help influence thousands of viewers," Welch says.

Kafai and Welch have a common goal: broadening perspectives on stigmas that persist in society.

To learn more about these speakers and to get tickets, visit the TEDxCPP website.