What's normal in my world is working on books with my friend and colleague, Dr. Peg Lamphier, about brilliant women in U.S. history.  What's not normal is having a brilliant young journalism student, Elizabeth Casillas, approach us to write an article about our work. 
This article in the PolyPost is the outcome of both of those events. 
It covers the latest book in the series Peg and I are editing:  Women Making History where we were asked to create 8 women's biographies to include in the series – with the best part being we then chose the 8 writers for the job. That meant giving a few of them their first book project ever.  That is when this job become the most fun.  This article covers the latest book on the life of Gloria Steinem, written by William Pruden (the only male author in the whole series – why?  Because women's history IS U.S. History so men can – and should – highlight it, too).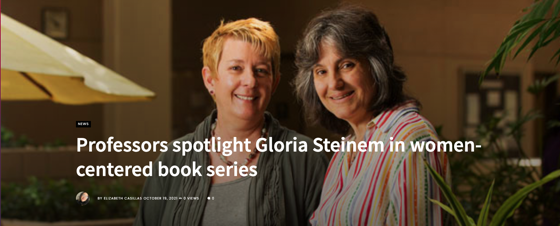 Peg Lamphier and Rosanne Welch, lecturers in the Interdisciplinary General Education Department, teamed up to co-edit "Gloria Steinem: A Life in American History," the second installment of their book series focused on women's contribution to American history and culture released Aug. 2.
The book, written by William Prudent and published by ABC-CLIO, covers the life of feminist journalist Gloria Steinem. After previously working with ABC-CLIO on "Women in American History," an encyclopedia dedicated to detailing women's contributions in American history and culture, Lamphier and Welch were sought out by the publishing firm to co-edit a larger book series.
Other subjects in the book series include Ruth Bader Ginsburg, Hillary Clinton, Helen Keller, Sally Ride, Eleanor Roosevelt, Ida B. Wells and Delores Huerta.
"If we're going to have a series on women, what I want is books on women that don't have 13 other books about them," said Lamphier on the decision to incorporate Steinem into the series. "We keep trotting out the same women; it's like we can only know 10 women at a time in America, so we got some people like Wilma Mankiller and Gloria Steinem." A world-renowned feminist, Steinem's life experiences were crucial to the feminist movement which compelled the lecturers to include her story in the series.