Months of research went into the creation of the essays in "When Women Wrote Hollywood." Here are some of the resources used to enlighten today's film lovers to the female pioneers who helped create it.
From The "When Women Wrote Hollywood Archives 32: The Writers: A History of American Screenwriters and Their Guild by Miranda J Banks
Screenwriters are storytellers and dream builders. They forge new worlds and beings, bringing them to life through storylines and idiosyncratic details. Yet up until now, no one has told the story of these creative and indispensable artists. The Writers is the only comprehensive qualitative analysis of the history of writers and writing in the film, television, and streaming media industries in America.
Featuring in-depth interviews with over fifty writers–including Mel Brooks, Norman Lear, Carl Reiner, and Frank Pierson–The Writers delivers a compelling, behind-the-scenes look at the role and rights of writers in Hollywood and New York over the past century. Granted unprecedented access to the archives of the Writers Guild Foundation, Miranda J. Banks also mines over 100 never-before-published oral histories with legends such as Nora Ephron and Ring Lardner Jr., whose insight and humor provide a window onto the enduring priorities, policies, and practices of the Writers Guild.
With an ear for the language of storytellers, Banks deftly analyzes watershed moments in the industry: the advent of sound, World War II, the blacklist, ascension of television, the American New Wave, the rise and fall of VHS and DVD, and the boom of streaming media. The Writers spans historical and contemporary moments, and draws upon American cultural history, film and television scholarship and the passionate politics of labor and management. Published on the sixtieth anniversary of the formation of the Writers Guild of America, this book tells the story of the triumphs and struggles of these vociferous and contentious hero-makers.
---
Buy "When Women Wrote Hollywood" Today!
†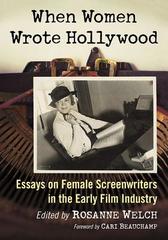 †
Paperback Edition | Kindle Edition | Google Play Edition
Help Support Local Bookstores — Buy at Bookshop.org
* A portion of each sale from Amazon.com directly supports our blogs
** Many of these books may be available from your local library. Check it out!
† Available from the LA Public Library