Months of research went into the creation of the essays in "When Women Wrote Hollywood." Here are some of the resources used to enlighten today's film lovers to the female pioneers who helped create it.
From The "When Women Wrote Hollywood" Archives 27: Feminism and the Female Author: The Not So Silent Career of the Woman Scenarist in Hollywood—1896–1930 by Donna R. Casella
In Of With Their Heads! A Serio-Comic Tale of Hollywood, scenarist Frances Marion speaks of her attempts to secures writing job in Hollywood ma reputable salary, particularly of her encounter with Fox who couldn't understand why she would want to write. "Listen, cuteness, don't try to be a foolish somebody. Nobody cares nothing about female writer," She kept pestering him until he offered her a job as a staff writer for $80 a week. She then went across town to William A. Brady's office at World Film Company and pushed her way in at $200 a week stating in her autobiography, "it's about time the writers got on the gravy train.. It was the teens, the early days of scenario writing in Hollywood. Anita Loos was a staff writer at Biograph where she was paid by the story, eventually earning $200 a piece. Gene Gunder was acting and writing scenarios for Kalem, then her own company, Gene Gauntier Feature Film Company, and eventually Universal. Jeanie Macpherson was beginning along and prolific partnership with director Cecil B. DeMille. Grace Cunard was taming out and acting in action-packed serials at Universal. Arid by the end of the decade, June Mathis, a regular scenarist at Metro, was chief of their script department. Women did not struggle to be a part of the growing industry of scenario writing in its early days, for women dominated the industry, and women like Marion, Loos, Mathis and Macpherson were among the most successful scenarists finale on female) in film history.'
---
Buy "When Women Wrote Hollywood" Today!
†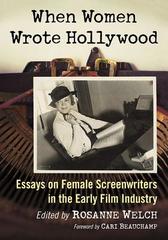 †
Paperback Edition | Kindle Edition | Google Play Edition
Help Support Local Bookstores — Buy at Bookshop.org
* A portion of each sale from Amazon.com directly supports our blogs
** Many of these books may be available from your local library. Check it out!
† Available from the LA Public Library