Months of research went into the creation of the essays in "When Women Wrote Hollywood." Here are some of the resources used to enlighten today's film lovers to the female pioneers who helped create it.
From The "When Women Wrote Hollywood Archives 30: "Frederica Sagor Maas, 1900 – 2012 on Notebook." MUBI. David Hudson
"Frederica Sagor Maas, a pioneering female screenwriter who scored her first big success with The Plastic Age, a smash hit for 'It Girl' Clara Bow in 1925, died Jan 5." She was 111. Mike Barnes in the Hollywood Reporter: "Because she was a woman, Maas was typically assigned work on flapper comedies and light dramas. Her efforts includes such other Bow films as Dance Madness (1926), Hula (1927) and Red Hair (1928); two films featuring Norma Shearer, His Secretary (1925) and The Waning Sex (1926); the Greta Garbo drama Flesh and the Devil (1926); and the Louise Brooks film Rolled Stockings (1927)…. In 1927, she married Ernest Maas, a producer at Fox, and they wrote as a team but struggled to sell scripts…. The pair, interrogated by the FBI for allegedly Communist activities, were out of the business by the early 1950s. Ernest Mass died in 1986 at age 94. In 1999, at the urging of film historian Kevin Brownlow, Maas published her autobiography, The Shocking Miss Pilgrim: A Writer in Early Hollywood. She was 99 at the time."
---
Buy "When Women Wrote Hollywood" Today!
†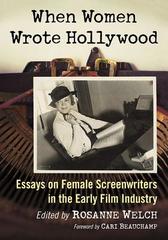 †
Paperback Edition | Kindle Edition | Google Play Edition
Help Support Local Bookstores — Buy at Bookshop.org
* A portion of each sale from Amazon.com directly supports our blogs
** Many of these books may be available from your local library. Check it out!
† Available from the LA Public Library