I'm so proud to present the first book in the 8 book Women Making History series I co-edited with my good friend and colleague Peg Lamphier.
This first book, written by Nancy Hendricks, covers the life of the beloved and brilliant Ruth Bader Ginsburg, the second woman on the Supreme Court whose life inspired the film On the Basis of Sex (produced by my good friend Karen Loop).
What makes books published by ABC-Clio so special is that they include a collection of primary documents, allowing the subject of the biography to speak for themselves.  In this case Nancy has chosen to include text from the Notorious RBG's Congressional Hearing for her nomination alongside her dissent in the case of Shelby County v. Holder in 2013 where she eloquently argued that breaking off pieces of the Voting Rights Act of 1965 because it seemed outdated was like "throwing away you umbrella in a rainstorm because you are not getting wet."
In Nancy's book you will read about Ruth's happy marriage to Martin Ginsburg (one of the most renowned tax attorneys in the country) which you have probably read about, and her year of work in Sweden with the Project on International Civic Procedure, which you probably haven't heard of yet but which turns out to be a fascinating look at this fascinating woman. Most male lawyers had turned down the job because it meant learning Scandinavian but being RBG she mastered that lickety split.
Many thanks to Nancy for her beautifully poetic writing, to Peg for being a brilliant co-editor – and to RBG for paving the way for women for so, so long. I've scanned the inner front page of the book since it's the page with my and Peg's series editor credit.  What an honor to be asked to oversee this set – and to dwell so long in the lives of these amazing women.
Look out for the rest of the series which will include biographies on the lives of Hillary Clinton, Gloria Steinem, Ida B. Wells, Helen Keller, Delores Huerta, Eleanor Roosevelt, Wilma Mankiller and Sally Ride.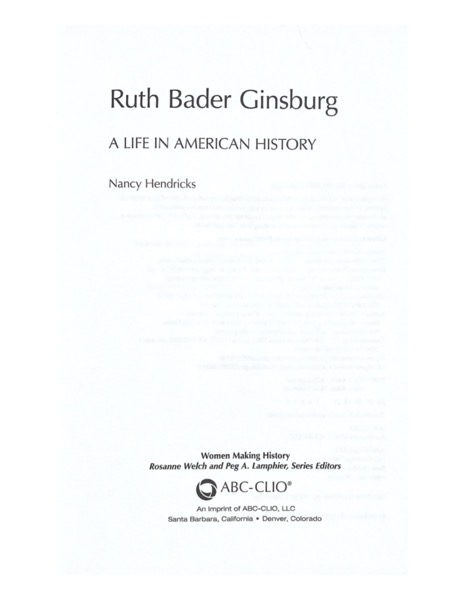 Description
This book offers both a biography of Ruth Bader Ginsburg, only the second-ever woman appointed to the Supreme Court, and a historical analysis of her impact in her role.

Ruth Bader Ginsburg: A Life in American History explores Ginsburg's path to holding the highest position in the judicial branch of U.S. government as a Supreme Court justice for almost three decades. Readers will learn about the choices, challenges, and triumphs that this remarkable American has lived through, and about the values that shape the United States.

Ginsburg, sometimes referred to as "The Notorious RBG" or "RBG" was a professor of law, a member of the American Civil Liberties Union, an advocate for women's rights, and more, before her tenure as Supreme Court justice. She has weighed in on decisions, such as Bush v. Gore (2000); King v. Burwell (2015); and Masterpiece Cakeshop v. Colorado Civil Rights Commission (2018), that continue to guide lawmaking and politics. Ginsburg's crossover to stardom was unprecedented, though perhaps not surprising. Where some Americans see the Supreme Court as a decrepit institution, others see Ginsburg as an embodiment of the timeless principles on which America was founded.