What this entire presentation — How The Monkees Changed Television with Rosanne Welch, PhD (Complete Presentation and Q&A) [Video] (45:06)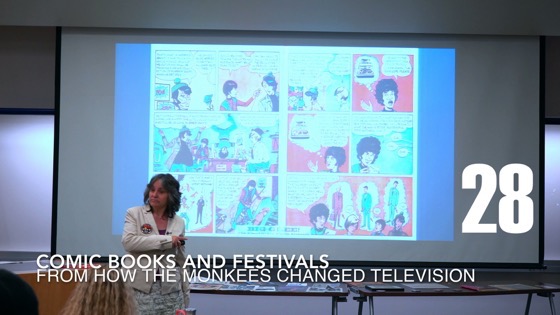 Rosanne Welch, PhD, Author of Why The Monkees Matter, presents "How The Monkees Changed Television" at a Cal State Fullerton Lunch Lecture on May 8, 2018.
In this talk, she shows how The Monkees, and specifically their presence on television, set the stage for large changes to come in the late 1960s.
Transcript
They also had their own comic book and comic books are cool. We always love a comic book. So that means you're you've seeped into the culture at the moment. Peter Tork was at the Monterey Pop Festival and at one point they asked him to quiet the crowd down because a rumor came that the Beatles were there and they weren't and people were getting agitated that they'd been lied to and they asked Peter Tork to stand up while the Grateful Dead were performing, interrupt the show, and say I just need for you all to calm down and they listened to Peter. He was that important that he could shut the crowd up at a rock festival right an early version of Coachella. So I think that's pretty cool. Hirschfeld if you know anything about Broadway musicals and Broadway performance Al Hirschfeld does drawings of all the famous people in New York. For TV Guide he did this drawing of the Monkees in 1966. So they were important enough for Hirschfeld to do a drawing of them which is pretty cool.
---
 Buy Why The Monkees Matter: Teenagers, Television and American Pop Culture
A hit television show about a fictitious rock band, The Monkees (1966-1968) earned two Emmys–Outstanding Comedy Series and Outstanding Directorial Acheivement in Comedy.

Capitalizing on the show's success, the actual band formed by the actors, at their peak, sold more albums than The Beatles and The Rolling Stones combined, and set the stage for other musical TV characters from The Partridge Family to Hannah Montana. In the late 1980s, the Monkees began a series of reunion tours that continued into their 50th anniversary.

This book tells the story of The Monkees and how the show changed television, introducing a new generation to the fourth-wall-breaking slapstick created by Laurel and Hardy and the Marx Brothers.

Its creators contributed to the innovative film and television of 1970s with projects like Bob & Carol & Ted & Alice, The Mary Tyler Moore Show, Laugh-In and Welcome Back, Kotter. Immense profits from the show, its music and its merchandising funded the producers' move into films such as Head, Easy Riderand Five Easy Pieces.
McFarland (Direct from Publisher) | Amazon | Kindle Edition | Nook Edition
Want to use "Why The Monkees Matter" in your classroom?
Order Examination Copies, Library and Campus Bookstore orders directly from McFarland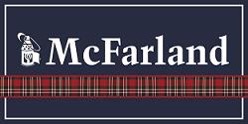 Podcast: Play in new window | Download
Subscribe: Google Podcasts | RSS