Months of research went into the creation of the essays in "When Women Wrote Hollywood." Here are some of the resources used to enlighten today's film lovers to the female pioneers who helped create it.
Between 1912 and 1919, the Universal Film Manufacturing Company credited eleven women with directing at least 170 films, but by the mid-1920s all of these directors had left Universal and only one still worked in the film industry at all. Two generations of cinema historians have either overlooked or been stymied by the mystery of why Universal first systematically supported and promoted women directors and then abruptly reversed that policy.

In this trailblazing study, Mark Garrett Cooper approaches the phenomenon as a case study in how corporate movie studios interpret and act on institutional culture in deciding what it means to work as a man or woman. In focusing on issues of institutional change, Cooper challenges interpretations that explain women's exile from the film industry as the inevitable result of a transhistorical sexism or as an effect of a broadly cultural revision of gendered work roles. Drawing on a range of historical and sociological approaches to studying corporate institutions, Cooper examines the relationship between institutional organization and aesthetic conventions during the formative years when women filmmakers such as Ruth Ann Baldwin, Cleo Madison, Ruth Stonehouse, Elise Jane Wilson, and Ida May Park directed films for Universal.
---
Buy "When Women Wrote Hollywood" Today!
†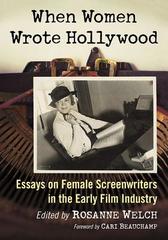 †
Paperback Edition | Kindle Edition | Google Play Edition
Help Support Local Bookstores — Buy at Bookshop.org
* A portion of each sale from Amazon.com directly supports our blogs
** Many of these books may be available from your local library. Check it out!
† Available from the LA Public Library