** Buy "Why The Monkees Matter" Today **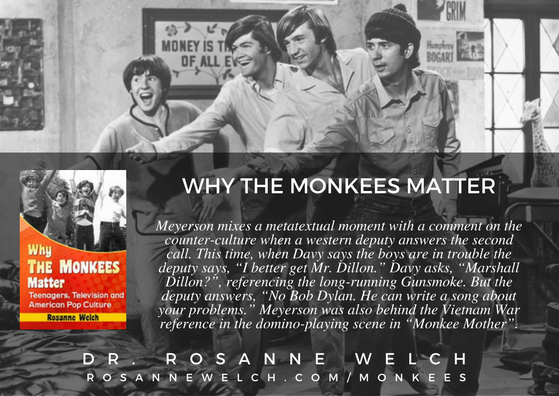 Meyerson mixes a metatextual moment with a comment on the counter-culture when a western deputy answers the second call. This time, when Davy says the boys are in trouble the deputy says, "I better get Mr. Dillon."

Davy asks, "Marshall Dillon?", referencing the long-running Gunsmoke.

But the deputy answers, "No Bob Dylan. He can write a song about your problems."

Meyerson was also behind the Vietnam War reference in the domino-playing scene in "Monkee Mother".  
from Why The Monkees Mattered by Dr. Rosanne Welch —  Buy your Copy today!
 Why The Monkees Matter: Teenagers, Television and American Pop Culture
McFarland (Direct from Publisher) | Amazon | Kindle Edition | Nook Edition