Here's the fun of research – and poetic license.
I'm working on my novel on the life of Giuseppe Garibaldi (the General who united Italy in 1860) for The Mentoris Project and I discovered that Giuseppe Verdi was a supporter of the Risorgimento (Resurgence), the movement to unite Italy.  Moreover, in his 1842 opera, Nabucco (which follows the plight of the Jews as they are conquered and exiled by the Babylonian King Nebuchadnezzar II (Nabucco in Italian) he wrote a song — Va Pensiero (to think/to recall) — which was popular among the men of the movement in the 1840s through 1860.  

Public Domain, Link

By Giacomo Brogi – File:Brogi,_Giacomo_(1822-1881)_-_Giuseppe_Verdi.jpg Scan by G.dallorto, Public Domain, Link
Poetic license comes in when I see it wasn't performed in South America (where Garibaldi could have access to it) until a year after he'd left that country.  So, I created a scene where he hears it from a newly arrived Italian sailor on the local docks and then Garibaldi goes home to sing it as a lullaby with his wife, Anita, and their son.
Of course, I had to hear the song myself (being more a Dean Martin fan than an opera fan I had not seen Nabucco) so, naturally, I turned to YouTube where I found this beautiful rendition of it with Pavorotti singing in Italian and Italian singer Zucchero Fornaciari, known mostly as Zucchero (but brand new to me!).
All in all a delightful discovery.
Click to view the video on YouTube
Va, pensiero, sull'ali dorate;
va, ti posa sui clivi, sui colli,
ove olezzano tepide e molli
l'aure dolci del suolo natal!

Del Giordano le rive saluta,
di Sionne le torri atterrate…
O, mia patria, sì bella e perduta!
O, membranza, sì cara e fatal!

Arpa d'or dei fatidici vati,
perché muta dal salice pendi?
Le memorie nel petto raccendi,
ci favella del tempo che fu!

O simile di Sòlima ai fati
traggi un suono di crudo lamento,
o t'ispiri il Signore un concento
che ne infonda al patire virtù.[11]

Go, thought, on wings of gold;
go settle upon the slopes and the hills,
where, soft and mild, the sweet airs
of our native land smell fragrant!

Greet the banks of the Jordan
and Zion's toppled towers…
Oh, my country, so beautiful and lost!
Oh, remembrance, so dear and so fatal!

Golden harp of the prophetic seers,
why dost thou hang mute upon the willow?
Rekindle our bosom's memories,
and speak to us of times gone by!

Either, akin to the fate of Jerusalem,
give forth a sound of crude lamentation,
or let the Lord inspire you a harmony of voices
which may instill virtue to suffering.
Buy the album
* A portion of each sale from Amazon.com directly supports our blogs 
---
---
My First Mentoris Project Book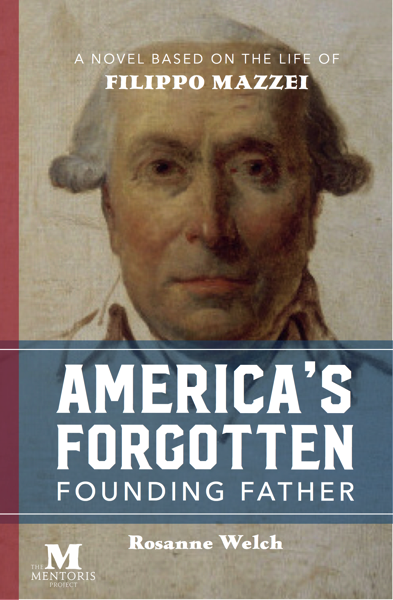 Order an autographed copy of America's Forgotten Founding Father
Print Edition | Kindle Edition | Apple iBooks Edition | Nook Edition
Also from the Mentoris Project
Want to use these books in your classroom? Contact the Mentoris Project!`