I first learned about Jerrie Cobb when I wrote my Encyclopedia of Women in Aviation and Space in 1998 (a great year all around!).
She was among the Mercury 13 (whom no one has done a film on yet) who Jackie Cochran paid to take all the astronaut training given to the male candidates. Jerrie outscored them all – men and women – but then NASA added the requirement that astronauts also have experience as military test pilots – which, naturally, no women had ever done since they weren't then allowed in those positions in any branch of the military.
What's so cool about Jerrie is she taught me to keep on going no matter what – because when NASA said no, she spent the rest of her pilot career delivering humanitarian packages to the Amazon. She deserved to go into space. The best she got was when Eileen Collins became the first female pilot of the space shuttle and she invited Jerrie and the other surviving members of the Mercury 13 to the 1995 shuttle launch (Collins later also became the first female space commander.)
Amazing women all around – their names ought to be as well known as the boys who made it into orbit.
CAPE CANAVERAL, Fla. — America's first female astronaut candidate, pilot Jerrie Cobb, who pushed for equality in space but never reached its heights, has died.

Cobb died in Florida at age 88 on March 18 following a brief illness. News of her death came Thursday from journalist Miles O'Brien, serving as a family spokesman.

In 1961, Cobb became the first woman to pass astronaut testing. Altogether, 13 women passed the arduous physical testing and became known as the Mercury 13. But NASA already had its Mercury 7 astronauts, all jet test pilots and all military men.

None of the Mercury 13 ever reached space, despite Cobb's testimony in 1962 before a Congressional panel.

"We seek, only, a place in our nation's space future without discrimination," she told a special House subcommittee on the selection of astronauts.
Read Jerrie Cobb, America's first female astronaut candidate, dies at 88 via NBC News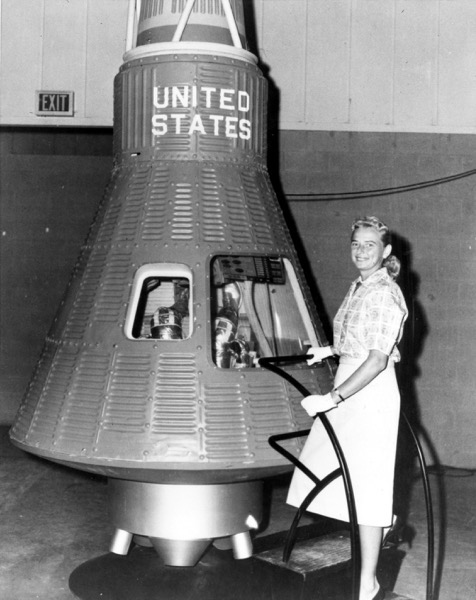 ---
Lear more about women in aviation and space with this encyclopedia
†
* A portion of each sale from Amazon.com directly supports our blogs
** Many of these books may be available from your local library. Check it out!
† Available from the LA Public Library