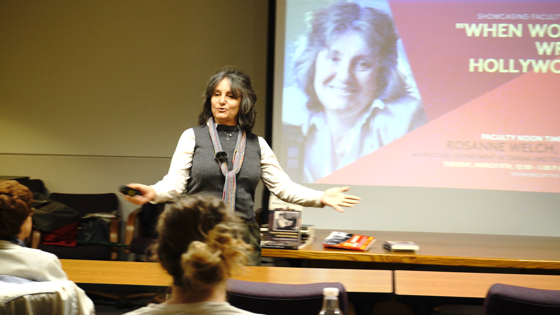 Thanks to Karen Lindell for attending my library lecture on When Women Wrote Hollywood at the Pollak Library on the campus of California State University, Fullerton. Her article tries to make sense of the many subjects that have populated my books, and she rightly deduces that it is highlighting the work of women writers that is my main mission.  Even in my book on The Monkees I made sure to fully cover the career of Treva Silverman, who by writing on that show became one of the first women to write for television without a male partner.
Video of "When Women Wrote Hollywood" Coming Soon!
Faculty Screenwriter and Author Gives Voice to Forgotten Women via CSUF News Center
As a young girl in Ohio, Rosanne Welch was a regular at her local library, pouring over autobiographies and memoirs of screenwriters from Hollywood's early years. By the age of 10, she knew that she wanted to have a career in television or film.

Welch, lecturer in screenwriting at Cal State Fullerton, did make it to Hollywood, where she wrote for television shows "Beverly Hills 90210," "Picket Fences," ABC's "Nightline" and "Touched by an Angel."

But a funny thing happened on the way to the studio … as Welch prepared for her career, she was surprised to find that the female screenwriters she had read about as a child weren't mentioned in her screenwriting courses.

This piqued her curiosity. Upon researching the matter, she found several reasons why these women had been sidelined in history.
Read Faculty Screenwriter and Author Gives Voice to Forgotten Women via CSUF News Center
* A portion of each sale from Amazon.com directly supports our blogs
** Many of these books may be available from your local library. Check it out!
† Available from the LA Public Library