Zilch just posted another of the Monkees 101 segments I so enjoy recording with my co-host and fellow Doctor – Sarah Clark – as we critically study each episode of the show chronologically.
In this episode we take apart one of our favorites – Success Story – which involved Davy's grandfather visiting Los Angeles and discovering that he had not yet become successful, so it was time to return to England and the real world. It brings a pang to most Monkees – and all Davy's fans – because the goodbye scene enacted all those years ago became the clip all the newscasters chose to use when Davy Jones died in real life, and therefore became the first one to leave the group. 
It's always fun to look at the times in which a piece of media was made, how that affected the way the story was digested then – and how changes across time affect the way the story is seen in concurrent generations. The Monkees is quite a rich show for the kind of sociological slicing Sarah and I give it each episode.
Hope you enjoy listening!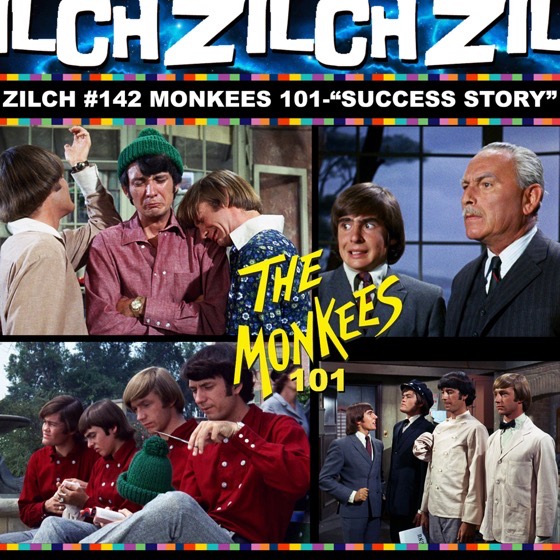 Zilch is back! "SUCCESS STORY"-Monkees news and Mailbag. MONKEES 101 looks at the episode "Success Story" and the times around it,
Podcast: Play in new window | Download
Subscribe: Google Podcasts | RSS
---
Want to learn more about The Monkees? Buy Why The Monkees Matter: Teenagers, Television and American Pop Culture
A hit television show about a fictitious rock band, The Monkees (1966-1968) earned two Emmys–Outstanding Comedy Series and Outstanding Directorial Acheivement in Comedy.

Capitalizing on the show's success, the actual band formed by the actors, at their peak, sold more albums than The Beatles and The Rolling Stones combined, and set the stage for other musical TV characters from The Partridge Family to Hannah Montana. In the late 1980s, the Monkees began a series of reunion tours that continued into their 50th anniversary.

This book tells the story of The Monkees and how the show changed television, introducing a new generation to the fourth-wall-breaking slapstick created by Laurel and Hardy and the Marx Brothers.

Its creators contributed to the innovative film and television of 1970s with projects like Bob & Carol & Ted & Alice, The Mary Tyler Moore Show, Laugh-In and Welcome Back, Kotter. Immense profits from the show, its music and its merchandising funded the producers' move into films such as Head, Easy Riderand Five Easy Pieces.
McFarland (Direct from Publisher) | Amazon | Kindle Edition | Nook Edition
Want to use "Why The Monkees Matter" in your classroom?
Order Examination Copies, Library and Campus Bookstore orders directly from McFarland