Highlighting the articles in the past editions of the Journal of Screenwriting, of which I am the Book Reviews Editor. Hopefully these abstracts will entice you to did a little deeper into the history and future of screenwriting. — Rosanne
---
Chaos, culture and fantasy: The television plays of Howard Schuman by Leah Panos
 
The single plays of American ex-pat playwright Howard Schuman produced for British television between 1973 and 1983 have received little critical attention. Written in a distinctly un-British madcap, non-naturalistic and often pulpy 'B movie' style, they centre around caricatured, hysterical and/or camp characters and make frequent references to popular culture. This article provides a general survey of Schuman's plays and analyses his sensibility as a screenwriter, drawing extensively on material from interviews with the writer. The article's particular focus is how and why different cultural forms including music, film and theatre are used and referred to in Schuman's plays, and how this conditions the plays' narrative content and visual and aural form. It also considers the reception of Schuman's plays and their status as non-naturalistic dramas that engage heavily with American pop culture, within the context of British drama. Finally, it explores the writer's relationship to style and aesthetics, and considers how his written works have been enhanced through creative design decisions, comparing his directions (in one of his scripts) with the realized play to reflect on the use of key devices.
---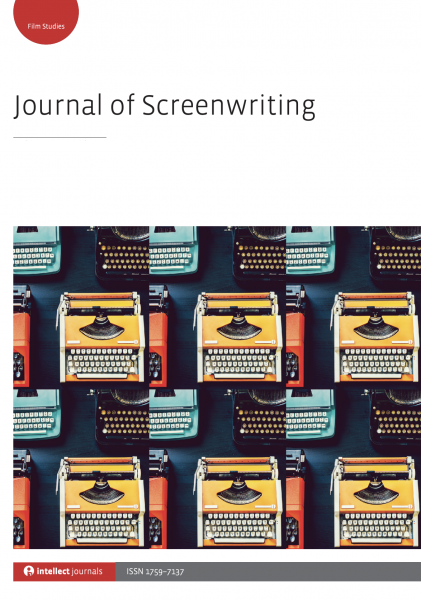 The Journal of Screenwriting is an international double-blind peer-reviewed journal that is published three times a year. The journal highlights current academic and professional thinking about the screenplay and intends to promote, stimulate and bring together current research and contemporary debates around the screenplay whilst encouraging groundbreaking research in an international arena. The journal is discursive, critical, rigorous and engages with issues in a dynamic and developing field, linking academic theory to screenwriting practice. 
Get your copy and subscription to the Journal of Screenwriting Today!
---
* A portion of each sale from Amazon.com directly supports our blogs
** Many of these books may be available from your local library. Check it out!