A clip from this longer presentation – Doctor Who: Feminism in the Whoniverse with Dr. Rosanne Welch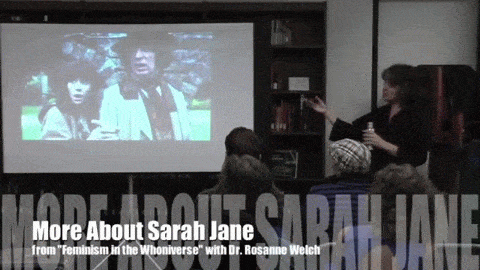 Watch this entire presentation – Doctor Who: Feminism in the Whoniverse with Dr. Rosanne Welch
Dr. Rosanne Welch (http://rosannewelch.com) speaks on "Feminism in the Whoniverse" of Doctor Who, the BBC television program now in its 50th year. She reviews each of the Doctor's female companions and speaks on how they are represented in the program and how they represented the women of their respective periods.
Transcript:
Sarah Jane follows Jon Pertwee into the Tom Baker era, so she is one of the longest running female companions we have, going along the way. We can see her getting older on screen. She gets more serious. Although. all of these women have their screaming moments — it is part of the job, but Sarah Jane gets to do more and more, which is fun and she and Tom make a good pair. She also comes back in the David Tennant era — an episode called "School Reunion" — which I love dearly. So, she's met the most, different versions of The Doctor possible, which is kind of fun.
Feminism in the Whoniverse was presented at the Cal Poly Pomona University Library where Dr. Welch teaches in the IGE (Interdisciplinary General Education) program.
This is the 4th talk on various aspects of Doctor Who that Dr. Welch has presented. You can find these talks using the links below.
Subscribe to Dr. Welch's YouTube Channel
Podcast: Play in new window | Download
Subscribe: Google Podcasts | RSS