A clip from this longer presentation – Doctor Who: Feminism in the Whoniverse with Dr. Rosanne Welch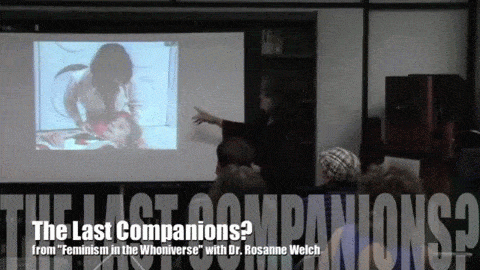 Watch this entire presentation – Doctor Who: Feminism in the Whoniverse with Dr. Rosanne Welch
Dr. Rosanne Welch (http://rosannewelch.com) speaks on "Feminism in the Whoniverse" of Doctor Who, the BBC television program now in its 50th year. She reviews each of the Doctor's female companions and speaks on how they are represented in the program and how they represented the women of their respective periods.
Transcript:
Then Peter meets Peri Brown. Absolutely the worst screamer the show ever had. Poor woman, did nothing but get scared and kidnapped. It was just really — again, a step forward with Nyssa – a step backward with Peri. She hung around with Peter until he regenerated. Not notice we're getting into the late period here. She ended up hanging out with Colin Baker — not a very popular Doctor. The ratings started to go down and she's got that whole perky thing going on, right? We move into Sylvester McCoy and his female companion, Ace, who's a cool pilotly kind of chick, so she's kind of fun. Sadly, this is the era when the show gets cancelled. Goodbye. 1989. Oh no, no more Doctor Who. Everyone is so sad. Right? Except, this guy Russell T Davies, "I have a plan!"
Feminism in the Whoniverse was presented at the Cal Poly Pomona University Library where Dr. Welch teaches in the IGE (Interdisciplinary General Education) program.
This is the 4th talk on various aspects of Doctor Who that Dr. Welch has presented. You can find these talks using the links below.
Subscribe to Dr. Welch's YouTube Channel
Podcast: Play in new window | Download
Subscribe: Google Podcasts | RSS