Dr. Rosanne Welch presents "How Doctor Who Redefined Masculinity: A Study of the Doctors and their Male Companions" at the Cal Poly Pomona University Library. Dr. Welch teaches in the IGE (Interdisciplinary General Education) program.
Watch the entire presentation here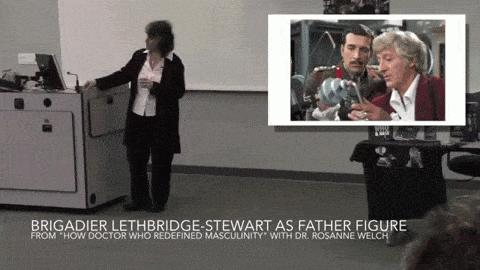 Transcript:
We'll go back in history to one character I don't think we give enough attention to, and that's  Lethbridge-Stewart, who arrives in the Jon Pertwee era as a military dude, so he's a warrior from that period and that's largely what we see him do for a long time. Again, we're in the 70s now, so we're not thinking about dads as an important role for men. But, as we go through time and the show stays on the air, guess what? He grows older, you know, because time flies and actors are actual humans and he appears on The Sarah Jane Adventures here as Lethbridge-Stewart so he still exists in her time period. He's a grandfatherly type and he's going to help her with some adventures. Now, because he's a real human being, he passed away. By the time we got to Capaldi's episodes — and now here I'm in Death in Heaven — he has passed away and so this is a portrait. We have to be reminded of his existence and his character in case you've never seen the show before, because we're going to move to the ending place in this episode where he does the most fatherly, heroic thing.
A clip from this 5th talk on various aspects of Doctor Who presented by Dr. Welch. You can find Dr. Welch's other Doctor Who talks using the links below.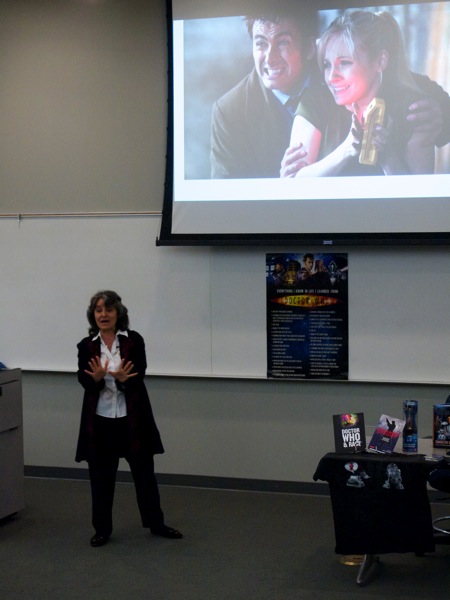 Follow Dr. Rosanne Welch on the Web and via social media at:
Podcast: Play in new window | Download
Subscribe: Google Podcasts | RSS