This book signing at Book Soup was wonderful – good people, good conversation (before and after the signing). Just another example of the kind of quality positive people who have been drawn to The Monkees across generations – I even met a former head of publicity for ScreenGems who had some fun stories to tell. — Rosanne
Watch this entire presentation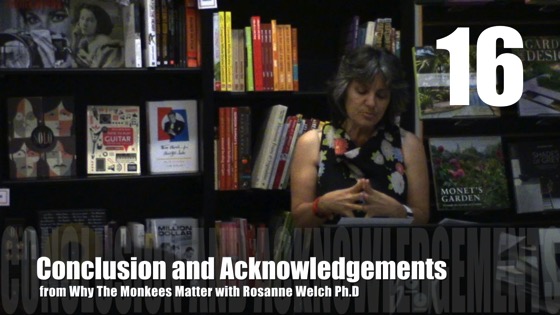 Transcript:
For me, the book is hoping to contribute to the significance of The Monkees. That's why it's called "Why The Monkees Matter." What is it that we learn from them and those are just a few of the thing that strikes me. I think that if we meet this group of early television writers and performers and directors — all of them who made television back in the day — it's going to help us understand what I call the magic of The Monkees and how much The Monkees have contributed to the myths we have about the magic of the 1960s. So, for me, that was the purpose of putting the book together along with getting to interview Micky Dolenz. That was always underneath it all.

While I have the chance, of course, I want to thank a lot of people that were involved with helping me with the book. My friend, Mia — who's not here tonight, but she copyedited for me and that was really important to have somebody look at all my spelling. I'm not bad at spelling, but you know, when you're in a hurry and see things it was great to have someone do that. Of course, I want to think my Mom for letting me watch TV so much when I was a kid, because, geez whiz, I grew up to be a TV writer and write books about TV. So I was actually studying back in the day. Nobody was really paying attention. So I think that's really important. Some people said you shouldn't let your kids watch TV. It will be bad for them and it turned out to be very good for me. So, I have to say, I have to thank my husband and my son, because I spent many nights just typing on my computer ignoring them and they seemed to be fine with that and, in fact, i also have to thank my son for coming to Monkees concerts with me and for reminding me that they have something else yet to teach which is that when he was 15 and saw them perform at the age of 70, yet he had seen them in television at the age of 18, because that is when they are forever saved in these programs, he said that what he learned from watching them is that he should find something he loved to do in life because he wanted to be able to do it as long as they were doing what they loved and to me that's a huge lesson and I think they just continue teaching us lessons over and over and over.
Buy "Why The Monkees Matter" Today!
Why The Monkees Matter: Teenagers, Television and American Pop Culture
McFarland (Direct from Publisher) | Amazon | Kindle Edition | Nook Edition
Podcast: Play in new window | Download
Subscribe: Google Podcasts | RSS