Podcast: Play in new window | Download
Subscribe: Apple Podcasts | Android | Google Podcasts | RSS
What this entire presentation — How The Monkees Changed Television with Rosanne Welch, PhD (Complete Presentation and Q&A) [Video] (45:06)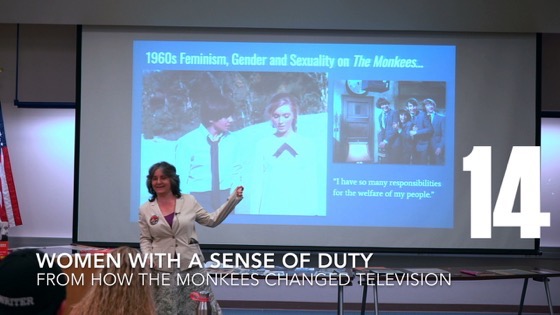 Rosanne Welch, PhD, Author of Why The Monkees Matter, presents "How The Monkees Changed Television" at a Cal State Fullerton Lunch Lecture on May 8, 2018.
In this talk, she shows how The Monkees, and specifically their presence on television, set the stage for large changes to come in the late 1960s.
Transcript
In this case, we are looking at Princess Bettina of Harmonica. She's the first character that we meet — the first female in the pilot episode — take that back — the first episode that aired. The Pilot was not the first episode that aired because they felt it was too different from what the show became. So this was about the 6th one that was filmed and it became the first one on the air. So here it's called Royal Flush and Princess Bettina comes to the United States and it turns out her guardian is trying to kill her because at the stroke of her 18th birthday she takes over the kingdom and he doesn't get to be in charge anymore. So, of course, Davy saves her life on the beach from drowning in a little bikini thing, but at the end of the episode he asks her to stay with him here in the United States and she says no because I have responsibilities for the welfare of my people.
---
 Why The Monkees Matter: Teenagers, Television and American Pop Culture
McFarland (Direct from Publisher) | Amazon | Kindle Edition | Nook Edition
Want to use "Why The Monkees Matter" in your classroom?
Order Examination Copies, Library and Campus Bookstore orders directly from McFarland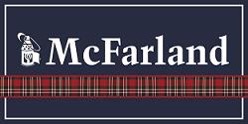 ---
About Rosanne Welch, PhD
Rosanne Welch, PhD is a writer, producer and university professor with credits that include Beverly Hills 90210, Picket Fences, Touched by an Angel and ABC NEWS/Nightline. Other books include Why The Monkees Matter: Teenagers, Television and American Pop Culture (McFarland, 2017) and Women in American History: A Social, Political, and Cultural Encyclopedia and Document Collection (ABC-CLIO, 2017), named to the 2018 Outstanding References Sources List, by the Reference and User Services Association (RUSA), a division of the American Library Association. Welch has also published chapters in Torchwood Declassified: Investigating Mainstream Cult Television (I.B.Tauris) and The American Civil War on Film and TV: Blue and Gray in Black and White and Color (Lexington Books, 2018) and essays in Doctor Who and Race: An Anthology and Outside In Makes it So, and Outside in Boldly Goes (both edited by Robert Smith). By day she teaches courses on the history of screenwriting and on television writing for the Stephens College MFA in Screenwriting programs. Her talk "The Importance of Having a Female Voice in the Room" at the 2016 TEDxCPP is available on YouTube.