Months of research went into the creation of the essays in "When Women Wrote Hollywood." Here are some of the resources used to enlighten today's film lovers to the female pioneers who helped create it.
---
Facts and Fancies about a Woman You Know or Ought to Know. Motography, Vol. VIII, No. 8, October 12, 1912, 293-294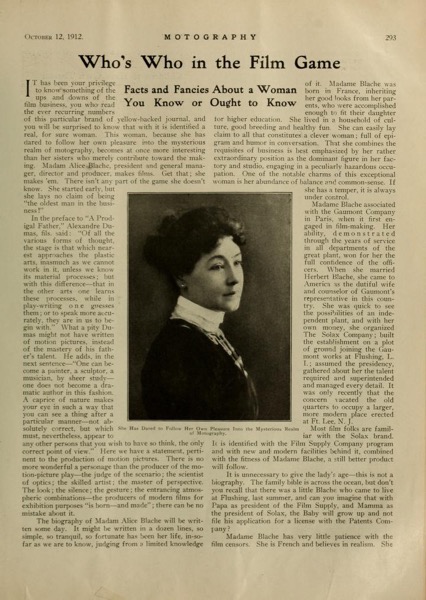 Download this magazine from the Internet Archive
IT has been your privilege to know something of the ups and downs of the film business, you who read the ever recurring numbers of this particular brand of yellow-backed journal, and you will be surprised to know that with it is identified a real, for sure woman. This woman, because she has dared to follow her own pleasure into the mysterious realm of motography. becomes at once more interesting than her sisters who merely contribute toward the making. Madam Alice Blache. president and general manager, director and producer, makes films. Get that; she makes 'em. There isn't any part of the game she doesn't know. Sbe started early, but she lays claim of being "the oldest man in the business!"
---
Buy "When Women Wrote Hollywood" Today!
†
Paperback Edition | Kindle Edition | Google Play Edition
* A portion of each sale from Amazon.com directly supports our blogs
** Many of these books may be available from your local library. Check it out!
† Available from the LA Public Library