Highlighting the articles in the past editions of the Journal of Screenwriting, of which I am the Book Reviews Editor. Hopefully these abstracts will entice you to did a little deeper into the history and future of screenwriting. — Rosanne
---
Teaching screenwriting in a time of storytelling blindness: the meeting of the auteur and the screenwriting tradition in Danish film-making by Eva Novrup Redvall
This article analyses how the approach to screenwriting in Danish cinema has undergone major changes from an auteur-oriented film culture in the 1960s with basically no professional screenwriters, to a collaborative auteur industry where screenwriting is now a recognized craft and screenwriters are established professionals in the film industry. Focusing on the historical development of the Screenwriting Department at the National Film School of Denmark, the article discusses how the educational emphasis on teaching screenwriting has had an impact on Danish cinema both by introducing a basic understanding of screenwriting models and tools for a new generation of Danish film-makers, and by developing a common awareness of the importance of screenwriting as well as successful collaborations in creative teams. The article highlights how, after widespread enthusiasm over the emergence of successful screenwriters, there are currently debates about the dangers of professionalization as well as critical voices calling for a return to a more personal kind of auteur film-making. Finally, it is suggested that further investigation of the nature of close collaborations between directors and screenwriters, now more prevalent in Denmark, can provide interesting material for new perspectives in discussions of authorship.
---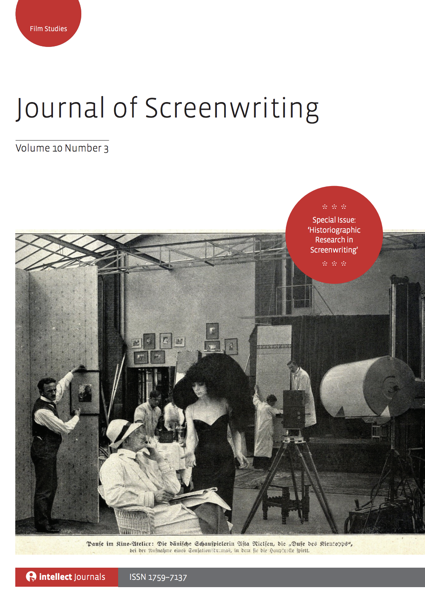 The Journal of Screenwriting is an international double-blind peer-reviewed journal that is published three times a year. The journal highlights current academic and professional thinking about the screenplay and intends to promote, stimulate and bring together current research and contemporary debates around the screenplay whilst encouraging groundbreaking research in an international arena. The journal is discursive, critical, rigorous and engages with issues in a dynamic and developing field, linking academic theory to screenwriting practice. 
Get your copy and subscription to the Journal of Screenwriting Today!
---
* A portion of each sale from Amazon.com directly supports our blogs
** Many of these books may be available from your local library. Check it out!