Highlighting the articles in the past editions of the Journal of Screenwriting, of which I am the Book Reviews Editor. Hopefully these abstracts will entice you to did a little deeper into the history and future of screenwriting. — Rosanne
---
Cyber-Aristotle: towards a poetics for interactive screenwriting by Jasmina Kallay
Through analysing appropriations of Aristotelian dramatic theory within interactive digital narratives (Laurel 1991, Hiltunen 2002, Mateas and Stern 2005), this article assesses the merits of Aristotle's Poetics in providing a basis for an interactive screenwriting poetics. From the six components of tragedy (plot, character, thought, diction, melody, spectacle) to mimesis and catharsis, these concepts are examined for their value in a new media context. The hierarchy of the components is challenged and new formal and material causative relations are explored, using the interactive drama Faade (Mateas and Stern, 2005) as an example. With new dramatic configurations emerging (such as spatial plotting and narrative architecture), the question posed is – to what degree can Aristotelian thought really aid the interactive screenwriting process? If this approach can not yield substantial results, what is the alternative?
---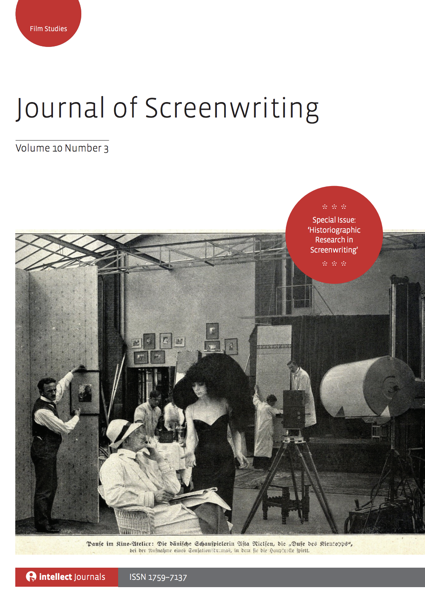 The Journal of Screenwriting is an international double-blind peer-reviewed journal that is published three times a year. The journal highlights current academic and professional thinking about the screenplay and intends to promote, stimulate and bring together current research and contemporary debates around the screenplay whilst encouraging groundbreaking research in an international arena. The journal is discursive, critical, rigorous and engages with issues in a dynamic and developing field, linking academic theory to screenwriting practice. 
Get your copy and subscription to the Journal of Screenwriting Today!
---
* A portion of each sale from Amazon.com directly supports our blogs
** Many of these books may be available from your local library. Check it out!