Highlighting the articles in the past editions of the Journal of Screenwriting, of which I am the Book Reviews Editor. Hopefully these abstracts will entice you to did a little deeper into the history and future of screenwriting. — Rosanne
---
Tonino Guerra: the screenwriter as a narrative technician or as a poet of images? Authorship and method in the writerdirector relationship by Riikka Pelo
The article focuses on the invisible role of the screenwriter and makes observations about the screenwriter's part in the process of writing a screenplay together with a director. By studying the two examples of the collaboration between the screenwriter and poet Tonino Guerra with the directors Michelangelo Antonioni and Andrei Tarkovsky, the intention is to follow the ways in which authorship is both constituted and shared in such a liaison. I observe how the craft of the screenwriter is understood in relation to the different aspects of his task. By focusing on the case study around the writing of the film Nostalghia/Nostalgia (1983), I also consider how responsibility in developing these aspects is shared between screenwriter and director during different phases of a screenwriting process: in gathering ideas, sketching, building the story structure, writing drafts, rewriting and completing the final draft.
---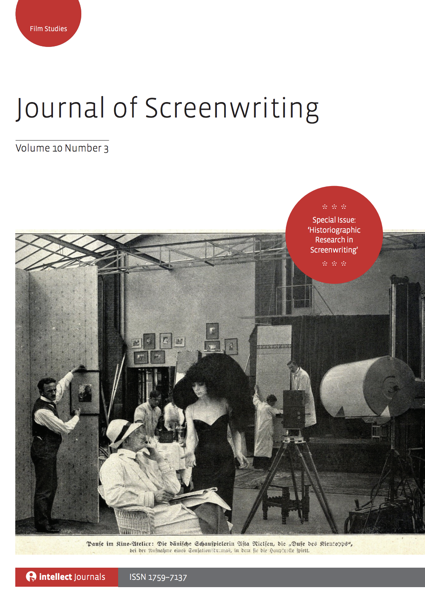 The Journal of Screenwriting is an international double-blind peer-reviewed journal that is published three times a year. The journal highlights current academic and professional thinking about the screenplay and intends to promote, stimulate and bring together current research and contemporary debates around the screenplay whilst encouraging groundbreaking research in an international arena. The journal is discursive, critical, rigorous and engages with issues in a dynamic and developing field, linking academic theory to screenwriting practice. 
Get your copy and subscription to the Journal of Screenwriting Today!
---
* A portion of each sale from Amazon.com directly supports our blogs
** Many of these books may be available from your local library. Check it out!