Highlighting the articles in the past editions of the Journal of Screenwriting, of which I am the Book Reviews Editor. Hopefully these abstracts will entice you to did a little deeper into the history and future of screenwriting. — Rosanne
---
Britain's First Suicide Bombers – The script and the screenwriter in dramatized documentary for television by Garry Lyons
This article centres on a drama-documentary developed by the author, an experienced screenwriter, producer and academic. The project in question was a major featurelength film for the BBC about the first suicide attack carried out by UK citizens. Aside from the significant difficulties posed by the subject matter, the mixed-genre nature of the film made its development problematic, falling between two distinct and contrasting traditions of programme-making. This case study locates the project in the context of a rising fashion for dramadoc within the BBC post 2000, identifies unforeseen difficulties with screenwriting that arose with the use of the form, and illustrates how those difficulties became amplified in this particular production. The analysis deals with the status of the screenwriter in a process where the script is no longer sovereign, raising questions of authorship, division of labour and collaborative exchange. It contributes to the ongoing debate between documentary values of sobriety and objectivity as opposed to dramatic ones of inner truth and emotional understanding, and makes the case for an 'accumulation of voices' as a justifiable representation of reality in contrast to a linear expository narrative. Finally, it commends further study of mixed genre drama/ documentary as a way of reappraising orthodox screenwriting theory, offering as it does production methodologies that frequently dispense with the formal screenplay.
---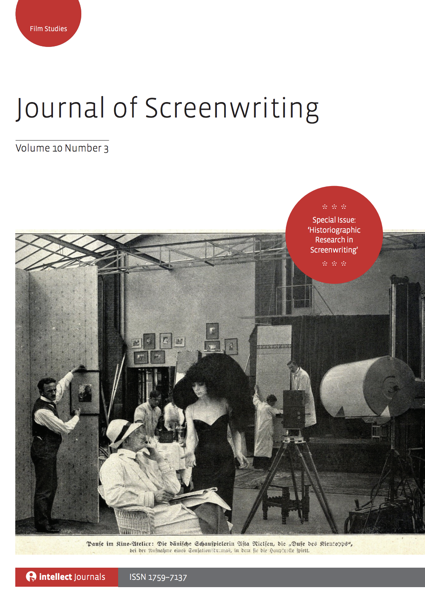 The Journal of Screenwriting is an international double-blind peer-reviewed journal that is published three times a year. The journal highlights current academic and professional thinking about the screenplay and intends to promote, stimulate and bring together current research and contemporary debates around the screenplay whilst encouraging groundbreaking research in an international arena. The journal is discursive, critical, rigorous and engages with issues in a dynamic and developing field, linking academic theory to screenwriting practice. 
Get your copy and subscription to the Journal of Screenwriting Today!
---
* A portion of each sale from Amazon.com directly supports our blogs
** Many of these books may be available from your local library. Check it out!