A clip from this longer presentation – Doctor Who: Feminism in the Whoniverse with Dr. Rosanne Welch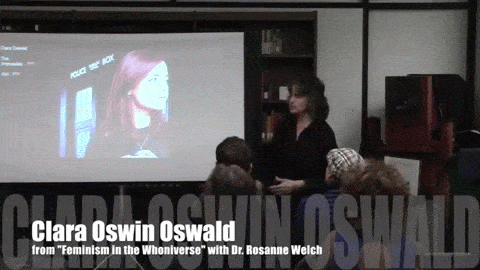 Watch this entire presentation – Doctor Who: Feminism in the Whoniverse with Dr. Rosanne Welch
Dr. Rosanne Welch (http://rosannewelch.com) speaks on "Feminism in the Whoniverse" of Doctor Who, the BBC television program now in its 50th year. She reviews each of the Doctor's female companions and speaks on how they are represented in the program and how they represented the women of their respective periods.
Transcript:
Now, our final companion, as we know is Clara, who we are dealing with right now. I have issues with the fact that she is nicknamed "The Impossible Girl." I don't know what impossible means and I don't like girl, because she is not a girl. She may be, again, younger and she has kind of a Susan, naive thing going on. They blended Susan and Barbara because she's a teacher but she's got a little girl thing and now that we bring the Peter Capaldi era in, there's definitely a grandfather/granddaughter feel, so it's almost as if we've come full circle and we've go the same relationship that we started with in 1963. I am definitely at odds about Clara. I do not know that I would qualify her as a feminist.   
Feminism in the Whoniverse was presented at the Cal Poly Pomona University Library where Dr. Welch teaches in the IGE (Interdisciplinary General Education) program.
This is the 4th talk on various aspects of Doctor Who that Dr. Welch has presented. You can find these talks using the links below.
Subscribe to Dr. Welch's YouTube Channel
Podcast: Play in new window | Download
Subscribe: Google Podcasts | RSS