A clip from this longer presentation – Doctor Who: Feminism in the Whoniverse with Dr. Rosanne Welch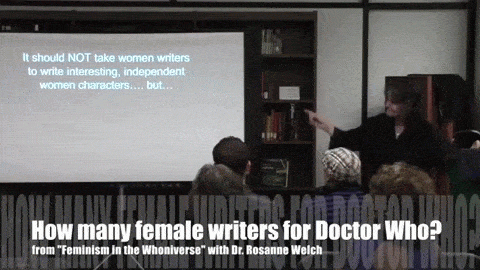 Watch this entire presentation – Doctor Who: Feminism in the Whoniverse with Dr. Rosanne Welch
Dr. Rosanne Welch (http://rosannewelch.com) speaks on "Feminism in the Whoniverse" of Doctor Who, the BBC television program now in its 50th year. She reviews each of the Doctor's female companions and speaks on how they are represented in the program and how they represented the women of their respective periods.
Transcript:
I do want to talk about this briefly. It should not take women writers to write interesting women characters. We shouldn't need that. In 50 years of Doctor Who, guess how many female writers they've bought? How may women have written episodes of Doctor Who in 50 years? 2? A little bit higher. 5! 50 years. 50 years, they have only found 5 women  that they've let write this program and that's them right there. Go back to 1966. Once in 1985. Twice in 1985. Excuse me. Once in 1989 and twice in 2007. Now Helen Raynor wrote for Torchwood, which was Russell T Davies spin off, so he appreciated her work, obviously, and hired her again. Again, a gay male hired the women to write more episodes than any other female had ever written for that franchise.
Feminism in the Whoniverse was presented at the Cal Poly Pomona University Library where Dr. Welch teaches in the IGE (Interdisciplinary General Education) program.
This is the 4th talk on various aspects of Doctor Who that Dr. Welch has presented. You can find these talks using the links below.
Subscribe to Dr. Welch's YouTube Channel
Podcast: Play in new window | Download
Subscribe: Google Podcasts | RSS