The Vagina Monologues 2016 – Rosanne performs "The Flood"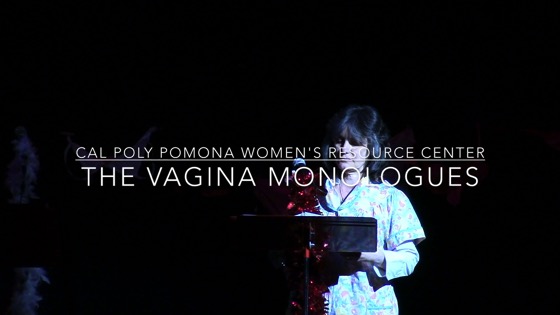 On Tuesday February 16th the Women's Resource Center of CalPoly Pomona presented their 15th annual performance of Eve Ensler's "Vagina Monologues".
My colleague Peg Lamphier and I joined a cadre of talented students in performing one monologue together.  Then a student dropped out and the director asked me to cover for her so this is my rendition of a monologue entitled "The Flood".  It came from Ensler's extensive interviews with women over the age of 65, many of whom were not able to say the word 'vagina' out loud.  
The best thing about the evening (besides 'acting' on stage again!) was watching all the students create a bond over the material – and watching those who had sat shyly in the back of some of my classroom discussions suddenly shouting "Vagina!" or impersonate moaning… We had to stifle our laughter backstage during most of the show.  But seeing all these female students become sisters through theatre was the best.
Link: Cal Poly Pomona Women's Resource Center
Podcast: Play in new window | Download
Subscribe: Google Podcasts | RSS