Thanks to the magic of Skype I was able to appear as a guest lecturer for the St. Scholastica Academy Honors Sociology class. Their engaging teacher has been using The Monkees to illustrate concepts in Sociology all year long and so I tailored this talk to the aspects of the book that discuss how feminism, civil rights and ethnic studies are represented in episodes of the show.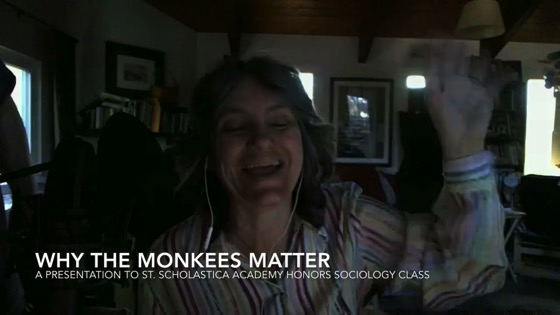 Buy "Why The Monkees Matter" Today!
 Why The Monkees Matter: Teenagers, Television and American Pop Culture
McFarland (Direct from Publisher) | Amazon | Kindle Edition | Nook Edition
---
About Dr. Rosanne Welch
Dr. Rosanne Welch is a professor in the Low Residency MFA in Screenwriting Program from Stephens College, California State University, Fullerton, Mount San Antonio Community College and Cal Poly Pomona.  In 2007, she graduated with her Ph.D. in 20th Century U.S./Film History from Claremont Graduate University.  She graduated with her M.A. in 20th Century United States History from California State University, Northridge in 2004.
Welch is also a television writer/producer with credits for Beverly Hills 90210 , CBS's Emmy winning Picket Fences and Touched By An Angel . She also writes and hosts her own podcasts on 3rdPass.media, her first one titled "Mindful(I) Media with Dr. Rosanne Welch."
Three Ring Circus: How Real Couples Balance Marriage, Work and Kids and The Encyclopedia of Women in Aviation and Space are two books she has written. Los Angeles Times and the Journal of Screenwriting hold some of her published articles.
Dr. Rosanne Welch Web Site and Blog
Podcast: Play in new window | Download
Subscribe: Google Podcasts | RSS