I'm so honored to have been asked to moderate this exciting panel coming up next Wednesday August 16, 2017: WOMEN WARRIORS: WRITING STRONG FEMALE PROTAGONISTS with a panel that includes Allan Heinberg (WONDER WOMAN), and Moira Walley-Beckett (ANNE WITH AN E), Amy Berg (COUNTERPART), Liz Flahive (GLOW), Carly Mensch (GLOW).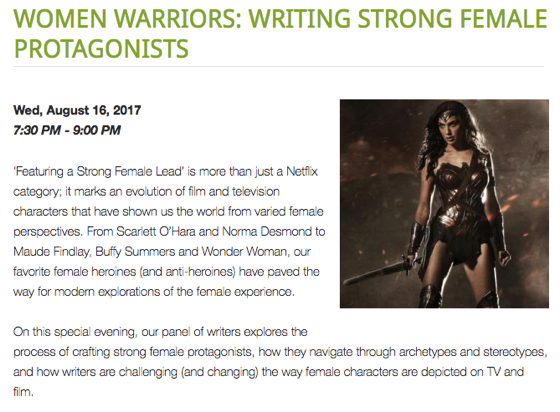 Unfortunately, this event is sold out.
'Featuring a Strong Female Lead' is more than just a Netflix category; it marks an evolution of film and television characters that have shown us the world from varied female perspectives. From Scarlett O'Hara and Norma Desmond to Maude Findlay, Buffy Summers and Wonder Woman, our favorite female heroines (and anti-heroines) have paved the way for modern explorations of the female experience.

On this special evening, our panel of writers explores the process of crafting strong female protagonists, how they navigate through archetypes and stereotypes, and how writers are challenging (and changing) the way female characters are depicted on TV and film.

Panelists:

Amy Berg – Amy is a writer and executive producer for film and television. She's written for a multitude of shows including DA VINCI'S DEMONS, PERSON OF INTEREST, EUREKA, LEVERAGE, and THE 4400. She also created the award-winning digital series CAPER. Along with her feature work, she's currently co-showrunning the upcoming Starz series COUNTERPART starring J.K. Simmons and consulting on a series for Hulu.

Liz Flahive & Carly Mensch – Creators of Netflix Original Series GLOW

Allan Heinberg – Allan is the screenwriter of the film Wonder Woman, directed by Patty Jenkins. His television writing and producing credits include The Naked Truth, Party Of Five, Sex And The City, Gilmore Girls, The O.C., Grey's Anatomy, Looking, and Scandal. Most recently, Heinberg developed, wrote, and ran ABC's The Catch, starring Mireille Enos and Peter Krause. For Marvel Comics, Heinberg created and wrote Young Avengers and its sequel, Avengers: The Children's Crusade with co-creator/artist Jim Cheung. For DC Comics, Heinberg co-wrote JLA: Crisis Of Conscience with Geoff Johns (art by Chris Batista), and re-launched Wonder Woman with artists Terry and Rachel Dodson.

Moira Walley-Beckett – Moira is a multiple award winning screenwriter. She is currently the Series Creator and Executive Producer of the Netflix drama "ANNE (with an E)."

Recently, Moira created "Flesh and Bone," a critically acclaimed Limited Series for STARZ. The drama received multiple nominations (including a GOLDEN GLOBE and a WGA nod) and won a SATELLITE AWARD, a GRACIE AWARD, and a WOMEN'S IMAGE (WIN) Award. Before creating "Flesh and Bone," Moira spent six years as a writer and Co-Executive Producer on the critically acclaimed AMC series "Breaking Bad." For her work on that show, Moira has won a total of three EMMY AWARDS, three WRITERS' GUILD AWARDS, three AFI AWARDS, three SATURN AWARDS, two PGA AWARDS, a GOLDEN GLOBE, a PEABODY, and received a PEN LITERARY AWARD nomination. Before her tenure as a writer on "Breaking Bad," Ms. Walley-Beckett wrote on the NBC dramas "Raines" and "Eli Stone," and "Pan Am" for ABC.

Currently, Moira has a feature film, The Grizzlies, in post-production with Kennedy/Marshall and Northwood Productions. Ms. Walley-Beckett hails from Vancouver, Canada but resides in Los Angeles.