Part of the California State University, Fullerton Faculty Noon Time Talks at the Pollak Library.
Watch this entire presentation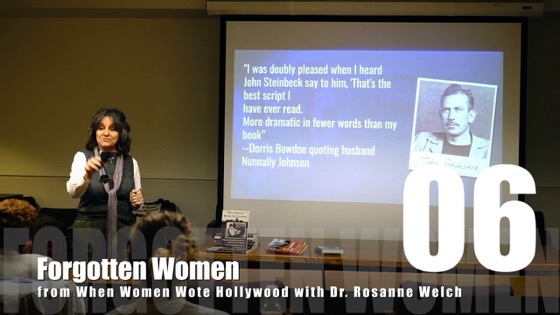 Transcript:
In fact, John Steinbeck who was writing about how his movie was adapted, wrote that not only Johnson the man who did it did better than his own novel. So the man who wrote Grapes of Wrath was crediting the man who adapted it and yet our own way of doing news and writing about films always privileges the director. Which makes me crazy I don't believe in that. It's also sad and easy for men to dismiss women in their memoirs. We all know the picture of this guy. He is very famous for being a director. People think about his films. He admits in his memoirs that he learned everything he knows from some middle-aged American woman whose name was Eve Unsell she was a producer for Universal Studios the first woman to have her own production company they sent her to England to fix their production company in England and she trained him. Could he at least mention her name in the memoir? Right? And people researching her might find her mentioned and be able to do more work on her. So it's very easy to dismiss people.
Dr. Rosanne Welch discusses the women in her new book "When Women Wrote Hollywood" which covers female screenwriters from the Silents through the early 1940s when women wrote over 50% of films and Frances Marion was the highest paid screenwriter (male or female) and the first to win 2 Oscars.  Yet, she fails to appear in film history books, which continue to regurgitate the myth that male directors did it all – even though it's been proven that the only profitable movies Cecil B. de Mille ever directed were all written by Jeannie Macpherson film ever won for Best Picture was written by Robert E. Sherwood (who people have heard of, mostly due to his connection to Dorothy Parker) and Joan Harrison.
---
Buy a signed copy of when Women Wrote Hollywood
Paperback Edition | Kindle Edition | Google Play Edition
* A portion of each sale from Amazon.com directly supports our blogs
** Many of these books may be available from your local library. Check it out!
† Available from the LA Public Library
Podcast: Play in new window | Download
Subscribe: Google Podcasts | RSS