KPFK's Andrew Tonkovitch interviewed Paperback L.A. Editor Susan La Tempa for Bibliocracy Radio last weekend and they had nice things to say about how fun my piece on the writers of The Monkees and how much he had misunderstood the band until he read my article. 
They discuss the whole anthology in this interview, and touch on The Monkees around the 20:20 mark.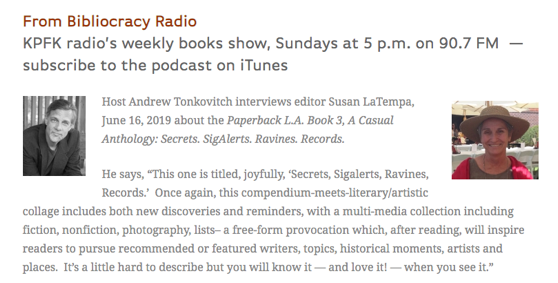 Host Andrew Tonkovitch interviews editor Susan LaTempa, 
June 16, 2019 about the Paperback L.A. Book 3, A Casual Anthology: Secrets. SigAlerts. Ravines. Records. 

He says, "This one is titled, joyfully, 'Secrets, Sigalerts, Ravines, Records.'  Once again, this compendium-meets-literary/artistic collage includes both new discoveries and reminders, with a multi-media collection including fiction, nonfiction, photography, lists– a free-form provocation which, after reading, will inspire readers to pursue recommended or featured writers, topics, historical moments, artists and places.  It's a little hard to describe but you will know it — and love it! — when you see it."
Podcast: Play in new window | Download
Subscribe: Google Podcasts | RSS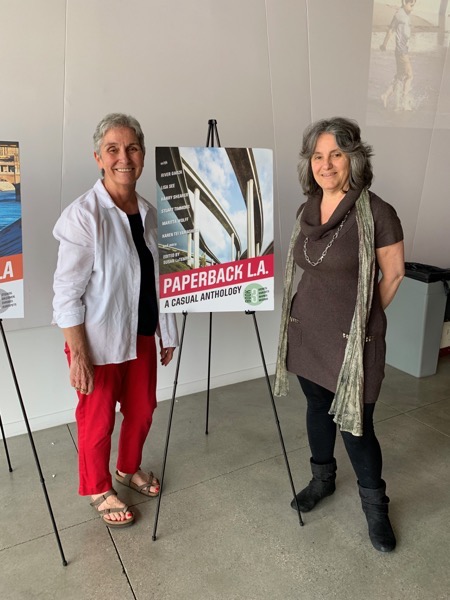 See the entire collection of photos from the event
Editor Susan La Tempa hosted all the local contributors at the event space in the Helms Bakery district, which gave us a chance to check out that lovely landmark.  Then I had the chance to meet Lisa See – author of On Gold Mountain, which tells the story of 4 generations of her Chinese-American family living in Los Angeles and running a factory, an antique shop and a restaurant popular with the Hollywood crowd of the 1930s and 40s.  We had first heard of her book when Doug and I were docents at the Autry Western Heritage Museum in Griffith Park and they had a whole exhibit dedicated to telling the story of the book (which it turns out Lisa curated!) It was so popular an exhibit that it hung around long enough for Joseph to be born and to become old enough to play in the little mini restaurant they set up with pots and plates and menus.  So it was wonderful to hear Lisa read an excerpt from the book and then to talk to her during the book signing segment of the afternoon.
I was also deeply impressed by the way Susan opened the event with a native Tongva greeting – something I had only seen done at the public events we attended in New Zealand where everyone began events with the traditional Maori greeting where you introduce yourself in terms of what is your mountain, your river, and your ancestry.  Beautiful! So hearing it in Los Angeles was a lovely idea we all ought to emulate.

Then the super cool thing was that several friends made the trip down to Culver City – thanks Duke and Dena Jackels and Dan and Liz Forer – and Euphemia – for coming to the reading, and for buying books!