If you'll be in Los Angeles on Sunday May 5th and want to see the architecture of the Helms Bakery – come to the Launch party for the 3rd book in the Paperback LA anthology – the editor, Susan LaTempa, reprinted my article about the writers of The Monkees TV show since that is so iconic LA. — Rosanne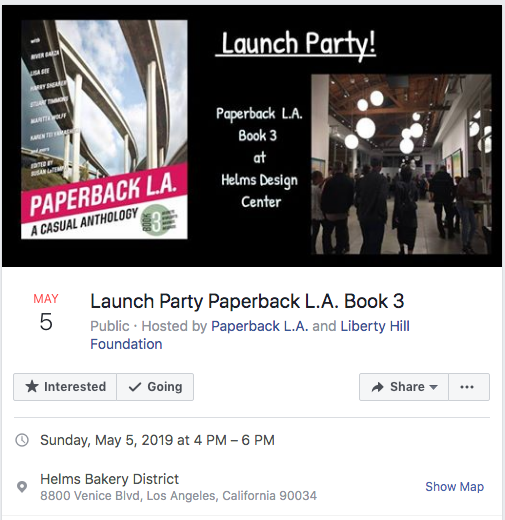 Join us for a reception and brief readings to celebrate the launch of Paperback L.A. Book 3 A Casual Anthology: Secrets. SigAlerts. Ravines. Records.

This is the third volume of the acclaimed new-school trilogy the creates a freewheeling mosaic of the city in words and photographs.

Join contributors including Lisa See, Alexandra Hedison, River Garza, Ann Elliott Cutting, Lou Mathews, Rosanne Welch, RJ Smith and Warren Hill for brief readings and views of photos. Culver City Councilmembers Meghan Sahli-Wells and Daniel Lee will welcome attendees.

Free and open to the public.

The book launch is at the Helms Design Center event space, 8745 Washington Blvd., Culver City CA. 90232.

Parking is available at complimentary parking lots located at the Helms Bakery entrance on the south side of Venice Boulevard at Helms Avenue (in front of Rejuvenation and across from Father's Office) for your visit.

Additional lots are located on the northeast and northwest corners of Helms Avenue and Venice Boulevard.