Part of the California State University, Fullerton Faculty Noon Time Talks at the Pollak Library.
Watch this entire presentation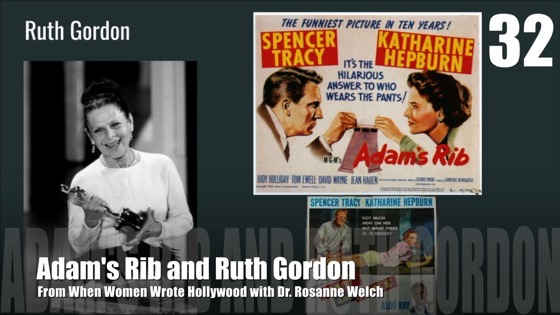 Subscribe to Rosanne's Channel and receive notice of each new video!
Transcript:
In Adam's Rib they're two lawyers who work on the opposite side of a case. In real life, she and her husband were equally famous writers. They shared a profession together at which they both excelled right? So that was exactly her experience and the kind of dialogue and language — the kind of attitude that comes from Katharine Hepburn and all her in all the films written by Ruth, that's Ruth Gordon talking right? She's the feminist we should think about. She was an early Broadway actress. Best friends of Thornton Wilder who wrote Our Town. He wrote the matchmaker for her which became — Hello Dolly — and when she was young her husband died. Her first husband died of disease when he was like 28 which was very sad and she ended up in a relationship with a famous producer — Broadway producer. They had a baby out of wedlock. She was supposed to have the baby adopted away because you weren't supposed to tell people you had gotten pregnant and had sex outside of marriage but she kept it instead and everybody said "Well your acting career will be over!" and she said "Only if you say it's over." and she kept working. So she was breaking the societal rules that were trying to trap her all right? So she is who Katharine Hepburn is in those movies and we should pay more attention.
Dr. Rosanne Welch discusses the women in her new book "When Women Wrote Hollywood" which covers female screenwriters from the Silents through the early 1940s when women wrote over 50% of films and Frances Marion was the highest paid screenwriter (male or female) and the first to win 2 Oscars.  Yet, she fails to appear in film history books, which continue to regurgitate the myth that male directors did it all – even though it's been proven that the only profitable movies Cecil B. de Mille ever directed were all written by Jeannie Macpherson film ever won for Best Picture was written by Robert E. Sherwood (who people have heard of, mostly due to his connection to Dorothy Parker) and Joan Harrison.
---
Buy a signed copy of when Women Wrote Hollywood
Paperback Edition | Kindle Edition | Google Play Edition
* A portion of each sale from Amazon.com directly supports our blogs
** Many of these books may be available from your local library. Check it out!
† Available from the LA Public Library
Podcast: Play in new window | Download
Subscribe: Google Podcasts | RSS